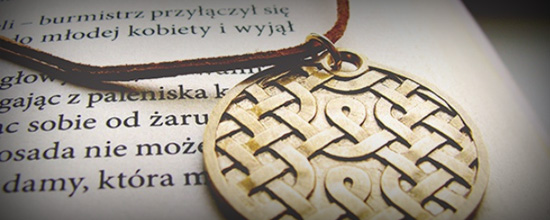 Celtic Tradition Meets 3D Printing: Introducing 3D Design App Sertae
by Yui Takahara | April 30, 2014
There is neither beginning nor end in beautifully intertwined Celtic knots. Their endless flow represents eternity, love, unity, harmony and the timeless nature of our spirit. With Sertae, a 3D design app partnering with i.materialise, you can personalize this traditional motif to make a one-of-a-kind pendant. What could be more romantic than creating a pendant for that special someone with a personalized message woven into the knots?
Sertae, meaning clover in Latin, is the creation of a Poland-based designer of the same name. Questioning today's standardized consumerism, he combined the Celtic tradition and state-of-the-art 3D printing technology to make customization of jewelry easier than ever.
 "Creating something that is a copy of a copy is simple. But Sertae started as a project to follow the other path. This is not a startup or company, there are no investors behind me. I'm on my own, doing what I love." – Sertae
You don't need design experience to customize your pendant on Sertae. All you have to do is follow three simple steps. Visit the creation page to see how user-friendly it is!
1. Choose your desired shape (Square, Heart, Rhomb or Circle)
2. Draw your own Celtic knot pattern by clicking and connecting two dots on the 3D model
3. Choose your material (Silver or Brass) and finishing
As a proud production partner of Sertae, i.materialise will 3D print all pendants designed on the app. Sertae says on his website, "It's better to leave this (production) to professionals. And they are the best."
If you need some inspiration before creating your own Celtic pendants, browse some of the endless design possibilities in Sertae's shop and the gallery of Valentine's Day Challenge contestants. If you look at them closely, you'll notice every pendant has different knots.
As Sertae says, "the real creative power is in your hands." So start weaving your own knots, and share their special meaning with others on our Facebook, Twitter, and Google Plus!