Batman Begins: World's First Official 3D Printed Batman Revealed
The 3D printed Batman is here: as the first company to secure official licensing of the DC superhero, Launzer.com has made 3D printed Batman figurines available to fans in Europe. From now on, users from the EU and EEA can order their personal 3D printed Batman figurine via Launzer's website.
Users can select Batman figurines, based on Christopher Nolan's legendary 'Batman Begins' movie, in three different materials: the full figure comes in multicolor or paintable white polyamide for the do-it-yourself fans. There is also a Batman bust in stainless steel – a must-have item for every Batman fan's bookshelf or work desk.
Kari Voutila, CEO of Launzer.com and 3D Online Factory Ltd., says of the launch:
"We are really proud to be the first to bring Batman alive in the 3D printing world. Batman has always been a pioneer in new technologies and 3D printing is a natural step for this superhero."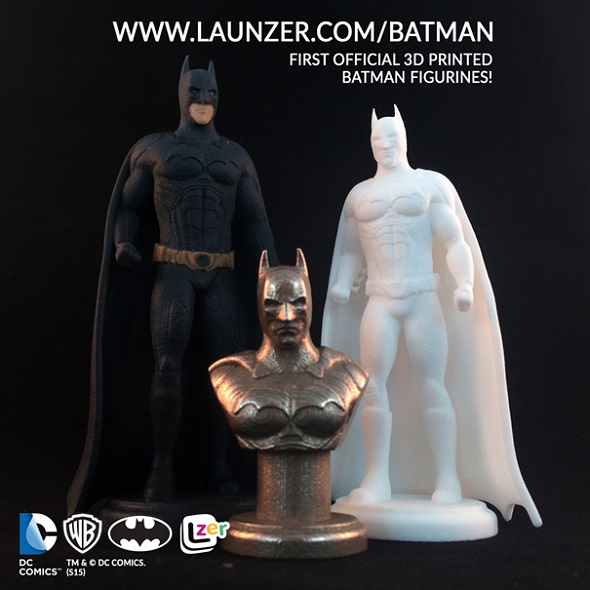 The 3D Batman is only the beginning for Launzer, as their deal with Warner Bros. secured them the right to produce and sell 3D printed figurines from various Warner Bros. universes in EU and EEA areas. Batman will soon be followed by several new releases from other DC Comics superheroes and villains such as the Joker, besides kids' productions like the Looney Tunes.
We're proud to be Launzer's 3D printing partner and are looking forward to these upcoming projects. Get your 3D printed Batman Begins figurines here or find more information about them in this article on '3D Printing Industry'. You can learn more about the materials mentioned in this article on i.materialise's material pages.