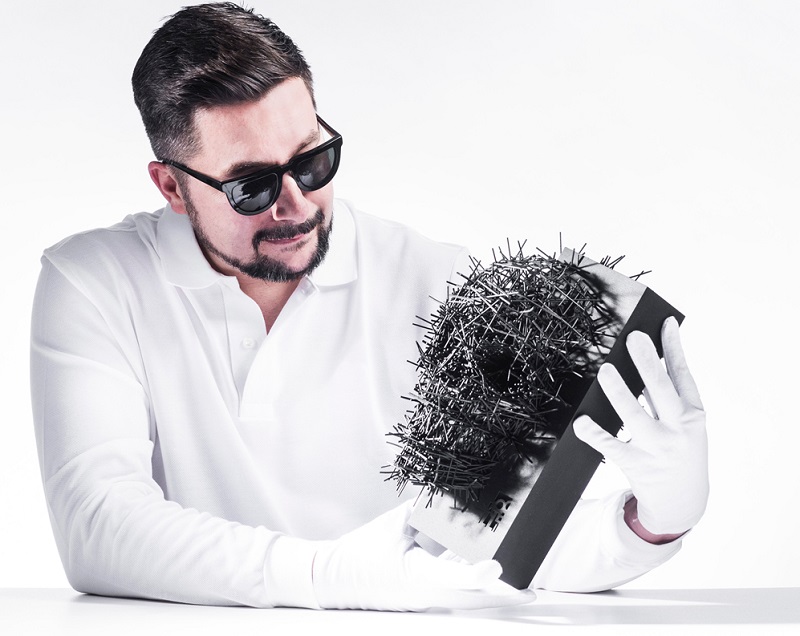 Art And 3D Printing Come Alive In Amazing Skull Sculpture
by Elizabeth | April 29, 2020
With walls as his canvas, renowned Belgian graffiti artist Steve Locatelli is known for his brightly colored murals and work featuring skulls. Although first and foremost a painter, Steve has recently started exploring the medium of sculpture and the use of high-tech industrial tools. His recent work, "SCRATCH 3D," employed laser cutting to create a wall-mounted piece of intricately crossed metal bars that bridges the gap between painting and traditional stand-alone sculpture. But he wanted to take this a step further and called on designer and illustrator Peter Serruys to help him realize the next iteration – the 3D-printed "SCRATCH 4D."
Making The Impossible Possible
Peter had previously created an animation for Steve, so the two creatives were familiar with each other's work and felt they could form a unique partnership for the SCRATCH 4D project. Steve's vision for the piece was to create a skull sculpture comprising of only thin pieces of material: essentially letting the SCRATCH 3D come to life.
They found that the best way to realize their vision was to use 3D printing.
The first step was to make the effect digitally. To do so, Peter used a technique to clone the lines around the basic shape of the skull. The design of the skull object only took a few days to realize, but it was the fine-tuning of the design for printing that posed a series of interesting challenges for Peter.
Because of the nature of the design, Peter wanted to avoid using a lot of supports during the printing process to ensure the final print would be clean and require little in the way of finishing. This ruled out printing the piece in metal – which would also increase the cost – so this led him to decide on Laser Sintering (SLS) as the ideal technology to print the piece. SLS uses powder that gets bound together during the printing process. The degree to which the powder is removed in the process affects the weight, and Peter chose to retain much of this powder to give the final piece a satisfying and stable weight that would help keep it free-standing and easily transportable.
But then came the prototyping. After several unsuccessful attempts to realize their vision, worry set in. "Will it be impossible to print in high-quality? That's well-finished?" Peter recalls. Peter had previously worked with i.materialise for another project and had been pleased with the quality of results.
So they tried the print again, this time with i.materialise. Once the order was confirmed, i.materialise was able to give guidance before the part went into production: "When we started working with i.materialise, it was so nice of them, they told me there were eight pieces that were floating, not connecting, and they sent me screenshots and guidance for the software so that I could see where I needed to change the supports. That was really helpful. Otherwise, you could print it, but it will fall down," Peter explains.
After some additional refinements, Steve's vision finally came to life – a floating skull made of thin bars that allowed room for the light to pass through, supported by a solid, offset base passing halfway through the skull. And one of the nicest benefits Peter found in working with i.materialise, was the ability to produce a product that was fully finished and ready to go, with no need to add additional paint.


As Peter confirms, "I was really, really pleased with the results."
Rethinking Form
SCRATCH 4D was an unqualified success. The piece garnered strong social media attention and all 25 pieces quickly sold out.
Beyond just its unique construction, an important aspect of the skull theme Steve works with – and perhaps key to its popularity – is his choice to use it in a reversal of its classic imagery. Normally associated with what many consider "dark" themes, Steve uses skulls to confront basic humanity. Because you cannot discern any gender or ethnicity from a skull, the pieces he creates have a neutrality that makes them relatable to everyone, regardless of their cultural background.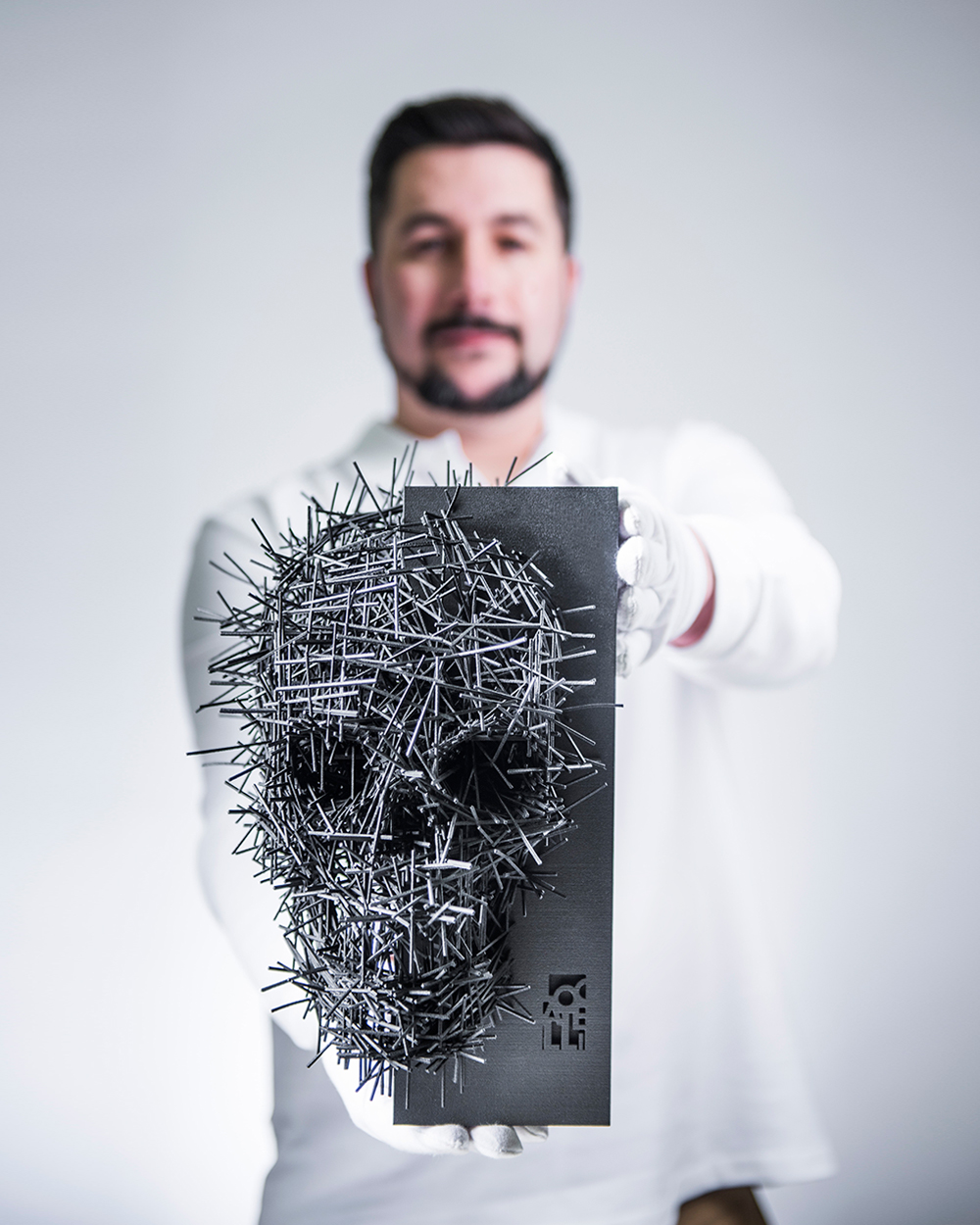 Steve and Peter now have plans to team up on a new skull project that will putting a technological twist on how a sculpture is produced: Steve will create a sculpture using traditional methods, which Peter can then scan and reproduce using 3D printing.
In the meantime, Peter continues to refine his 3D printing design skills working on toys and with techniques that i.materialise offers, but on a smaller scale. "I'm working on some toys but it's more for fun, really discovering 3D printing. My kitchen is like a little 3D printing factory."
What are your design plans? Upload your model today to get started with 3D printing.
Get our latest 3D printing news straight to your inbox each month by subscribing to our newsletter.