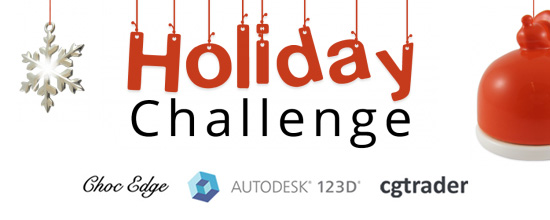 Announcing the Winners of the Holiday Gift Challenge
by Franky | November 17, 2014
About a month ago, we teamed up designer-oriented 3D model marketplace CGTrader.com, Autodesk 123D and Choc Edge for a Holiday Gift Challenge. With this challenge, we wanted to showcase the range of possibilities that 3D printing brings to Holiday shopping, as designers are invited to work with two distinct categories –Silver and Ceramics. Let's take a closer look at the two winning entries.
Ceramics
The jury's top pick in the Ceramics category was Noah Hornberger's Frozen Ice Bowl, a minimal design focused on stretching a basic grid of points in the vertical axis only. From the top, this bowl is a perfect square where each point is a different z-height. No doubt, this will look stunning in Ceramics.
Silver
For Silver, we all had a strong preference for LoupGarou's 'Reach the Stars Pendant' as it fitted the theme nicely and respected the design rules.
Both designers now will have their winning design 3D printed and receive it together with a 1 year premium membership to Autodesk 123D worth 99.99 USD, a 75 USD voucher to print at i.materialise, 200 USD in credits by CGTrader, promotional features by CGTrader, a T-Shirt by CGTrader and 3D printed chocolate objects by Choc Edge.
A big thanks to all who participated in the challenge and for those that missed out, no worries, there are more challenges to come. Stay tuned to find out about the next theme and the awesome prizes up for grabs.