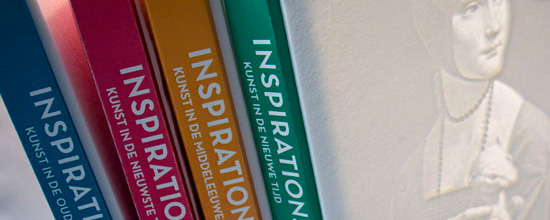 A New Dimension For Book Covers
by Steven | January 29, 2014
Lien Dierckx recently graduated from Luca, School of Arts, campus Sint-Lucas Ghent with a collection of four books with 3D printed covers. And we found them so interesting we had to share them with you! The four books are a study about how modern artists get inspired by art history. Dierckx found contemporary artists are looking for a way to give old art a (sometimes literal) new dimension, and so she decided to visualise this idea with… Yes! 3D printed covers!
The covers are made from polyamide, printed very thinly so as to achieve transparency, revealing an image with light shining through a translucent bas-relief. This way, Dierckx is showing not only the evolution in the conception of portraits throughout four periods in art history, but also how technological innovation can influence the contemporary art world. Double win.
"Designers are always looking for new materials and hypes, and 3D printing, right now, is just that. It will become even more of a hype with graphic designers, once the process of printing becomes easier. 3D printing will be just 'cool' without adding to the concept of the design.

However, I believe 3D printing will find its own place in graphic design in the future. Eventually, once everybody knows it, it will become one of the possible techniques, rather than the latest craze, and then, 3D printing will become a means to visualising a concept."

Lien Dierckx
Interested to see more by Leen Dierckx? Take a look at http://i.materialise.com/designer/lien-dierckx.