Looking to the Future: Top 5 3D Printing Trends to Watch
by Fabian | April 29, 2016
It seems like every week new 3D printers, 3D modeling apps and materials are getting announced. We are drowning in an information overflow about the newest model or filament on the market – and of course, everyone has a different opinion about which trend will dominate the 3D printing market in 2016 and beyond. On crowd-funding platforms like Kickstarter or IndieGoGo more than 50 different 3D printing projects are currently being launched.
In order to find some structure in the chaos, we scanned the most important 3D printing blogs and journal articles about today's 3D printing industry trends and compiled a list of what we think are the 5 topics most likely to shape the world of 3D printing from 2016 to 2020.
But before we start talking about the future, we also need to acknowledge how 3D printing is already changing our world. Car manufacturers use 3D printing to produce rare spare parts or prototypes for upcoming cars, airplane manufacturers like Airbus even use end parts printed in 3D. And of course 3D printing also heavily impacts the healthcare sector – in fact, most hearing aid devices are 3D printed and many implants already get printed in titanium.
What will happen with 3D printing in the next few years: top 5 trends to watch
The recent past has taught us that 3D printing works best when we talk about printing objects that need to be completely customized or unique (like implants, prototypes, or customized jewelry), or that would be too complicated to produce otherwise (3D printing is, in fact, great for complex designs with interlocking parts).
Based on numerous interviews with leaders and trendsetters in the 3D printing ecosystem, it is likely that we will soon see the following five 3D printing trends play a major role in the industry:
1. NEW 3D PRINTING MATERIALS:
Firstly, new 3D printing materials will emerge. Printing in metals is already a reality (titanium, steel, gold, you name it), but I think we will see more development using organic materials for printing skin and organs. Multi-material 3D printing will be another interesting trend to watch.
2. BETTER 3D PRINTERS:
Secondly, the machines will become more powerful: 3D printers will be able to print faster, better, and larger. Our latest addition, Smooth Detail Resin, is substantial proof of this point: its surfaces are smooth, its prints are very detailed (50 microns!), and the printing time is getting faster.
3. CHEAPER 3D PRINTING:
Thirdly, it's quite likely that prices for 3D printing will come down even further. We're simply talking economy of scale here. Sales of 3D printers (both for private and industrial use) will continue to boost and therefore prices will probably fall in the long run.
4.EASIER 3D MODELING:
This is still a major hurdle for many people. 3D modeling is not yet as easy and accessible as it should be. But I am hopeful that this will change soon. At the moment many 3D modeling programs simply ignore the 3D printing community.
They are designed for animators and graphic designers – and it can be really tough to make these models printable. But since an increasing amount of 3D designers create models with 3D printing in mind, more and more plugins and online apps that are easy to use are being developed. Even big companies like Windows or Photoshop are currently developing design solutions for 3D printing. This new competition will force established 3D modeling software programs to follow this trend.
5. NEW APPLICATIONS FOR 3D PRINTING:
Last but not least I want to talk about applications. In the next years, we will see that 3D printers will be used for things that were far beyond our imagination in the past. In a short period of time, we went from a pixelated Yoda figurine in plastic to cutting-edge high-precision metal printing. I think this trend will continue: what some people may see as a hobby for makers will change our lives in ways that we cannot even think of now. Only time will tell, but looking back at all that has happened over the last few years it's pretty sure we can say: we will be surprised yet again!
So as you can see, the world of 3D printing is still far from reaching its full potential. Quite simply, there is still so much to be discovered and developed. The next years will probably bring even faster, high-quality 3D printing and new breath-taking materials. In all likelihood, everyone will come into contact with a 3D printed object in the next years in one way or another – with or without actually knowing it.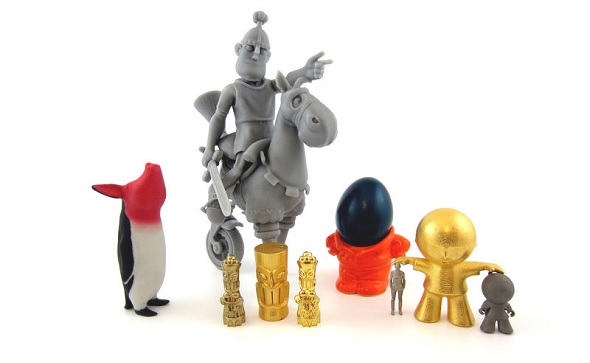 To ensure that you as a community benefit from these trends, we are always on the lookout for new materials, new technologies, and new industrial high-quality printers to make your 3D printing experience better, faster and cheaper. Did you know that we currently offer HQ 3D prints in 100+ materials and finishes? Take a look at all of them on our material page overview, and get an instant price quote for your 3D print now.