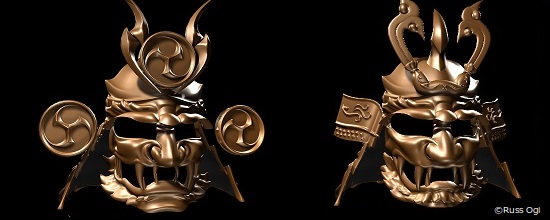 3D Printing Meets Japanese Samurai Culture: Developing the Concept of Raijin and Fujin Kabuto
by Yui Takahara | April 13, 2015
What happens when 3D printing and Japanese samurai culture collide? Contestants of i.materialise Japan's latest design challenge might hold an answer. The "Kabuto Design Challenge" has just been launched by the i.materialise Japan team to rediscover kabuto, traditional Japanese samurai helmets, using 3D Printing technology. To inspire the contestants, we collaborated with mixed-media designer and one of the jurors of this challenge, Russ Ogi, to develop a unique pair of 3D printed kabuto. The motif he chose was Raijin and Fujin, the Japanese gods of thunder and wind. Let's take a closer look at how he developed the design concept and turned his ideas into 3D models.
Research: Finding the Timeless Theme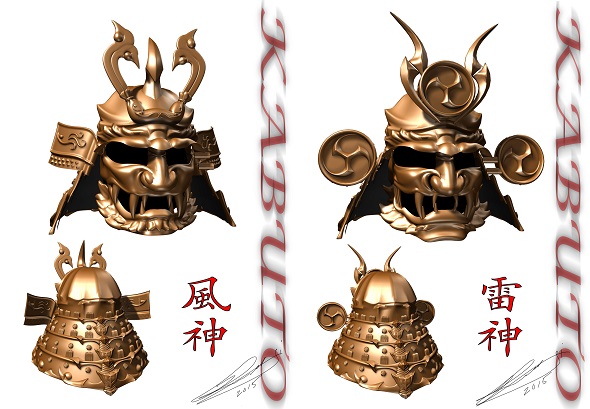 Russ Ogi: "Earlier this year, I was honored to be invited by i.materialise to create some new designs to highlight their 3D printed kabuto design contest. Together with the i.materialise team, I started developing two new kabutos to inspire contestants of the challenge.
I started my designs by first looking for a theme. For this project, I knew that I would be creating two kabuto to be shown together as a pair and that my initial audience would be Japanese. I looked for themes like twins, male and female, Japanese characters, deities, etc. that would fit both criteria.
I surfed the web to find images that related to these categories. When I found an image that inspired me either visually or conceptually, I began to narrow down the ideas. Sometimes, it is not the image itself but maybe lines or shapes within the image that gave me inspiration.
I stay away from themes that are too modern and/or do not have long-standing cultural or historical connections, such as computers, cell phones, tablets, etc. This gives my designs a timelessness about them. As I design, I think of the samurai of old; would they be able to relate to my designs?"
Discovery of Raijin and Fujin
"As I researched, I learned that Raijin, Japanese God of Lightning and Thunder, and Fujin, Japanese God of Wind, are often seen together. With this strong cultural connection, this pair stood out as a good theme for this project. Raijin and Fujin have already been depicted in many paintings, sculptures, tattoos, etc. The challenge became creating a fresh take on these figures while keeping them recognizable.
I looked for key traits of each deity's appearance. For Raijin, it was his drums, and he was sometimes depicted as having two horns. For Fujin, it was kazebukuro, the bag he carries the wind in, and he often was depicted with a single horn.
Most of the images depict them as oni (demons). This concept worked well for the menpo (face mask). It allowed for fierce and aggressive expressions. Often, they are depicted with long hair, eyebrows or beards flowing in the wind. These elements create a very active, dynamic appearance. My goal was to translate the solid surface of the kabuto into these flowing and dynamic forms."
Raijin: A New Spin on the Traditional Design
"For Raijin, the design element that came to me first was the ring of drums he uses to create thunder. Instead of including a literal ring of drums attached to the back of the kabuto, I decided to incorporate the drums into the maedate (front crest) and fukigaeshi (ear-like wings) to imply the drums were floating in an arch.
Since the tomoe symbol is an important element of the drums, I needed to use it in my design. To put a new spin on the traditional design, I created the tomoe using a triskelion shape in what is normally the negative space for the tomoe design. The tomoe "comma" shapes are now formed by the negative space left by the triskelion.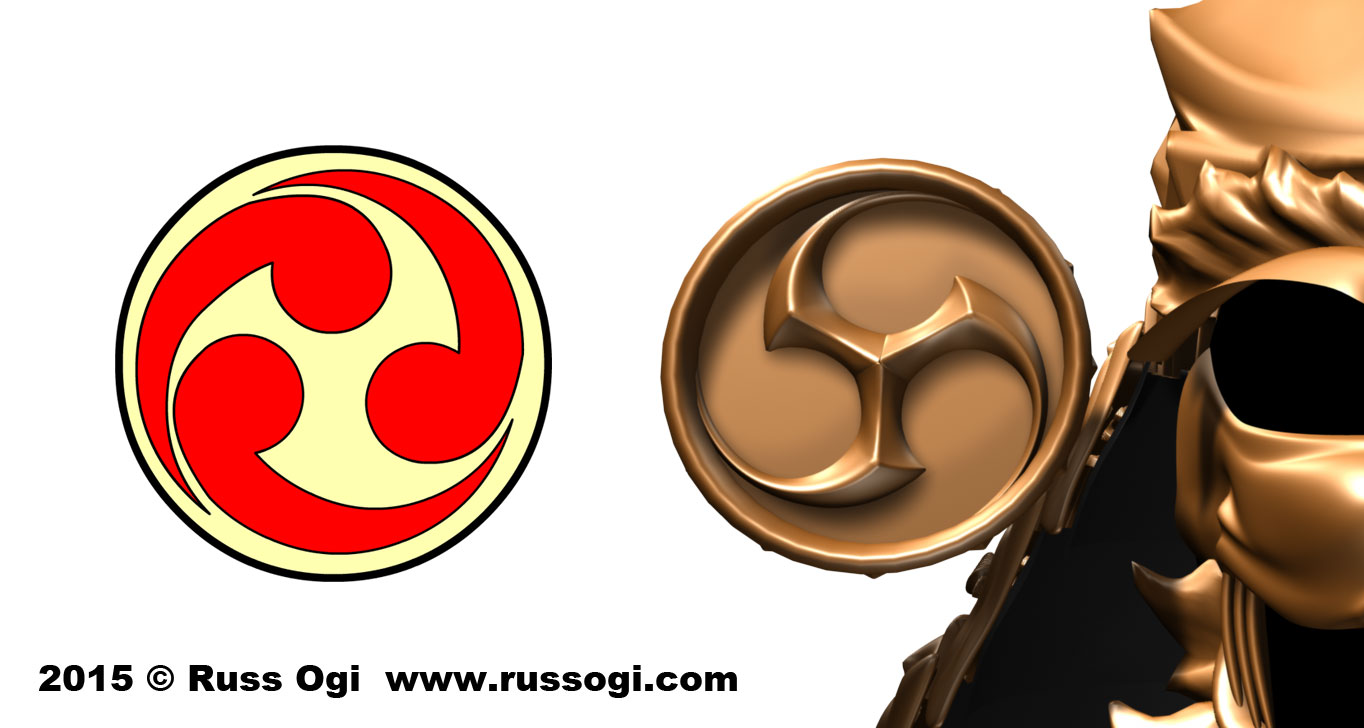 This gave the tomoe element another layer of visual interest as the viewer goes back and forth between seeing the triskelion and the tomoe pattern. This idea is symbolic of the ethereal nature of Raijin and the reality of lightning and thunder.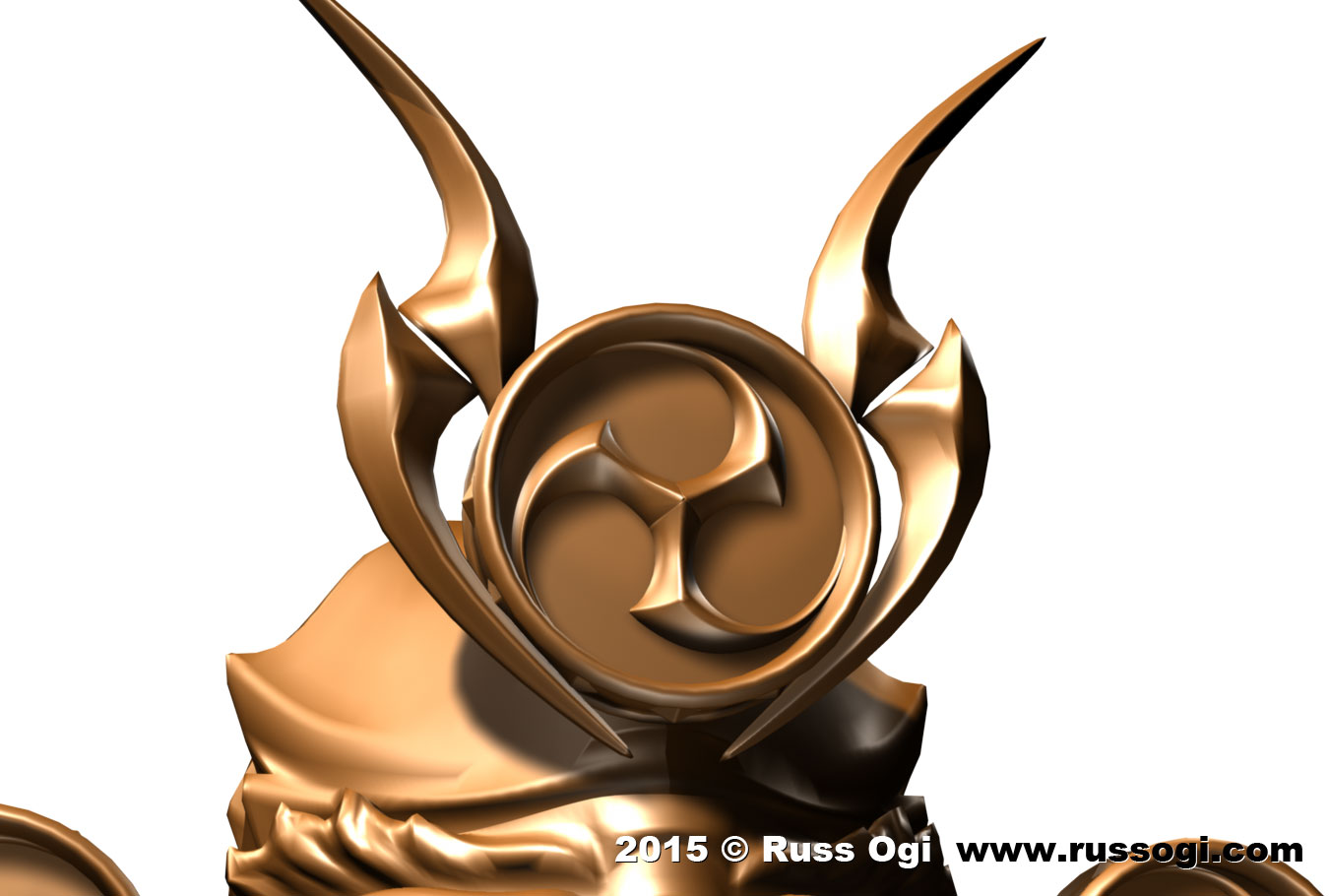 The two 'horns' are created by stylized lighting bolts. Visually, the maedate represents both lightning and thunder."
Fujin: Symbolizing the Dual Nature of the Wind
"For the Fujin kabuto, the single horn was a central feature of the maedate. The hardest part of the design was deciding how to include the kazebukuro, Fujin's bag of wind. The bag has the appearance of an air-filled material bag – a softer, rounded form. However, for a war helmet, I wanted the maedate to have elements that were hard and forceful.
The bag is usually pictured arcing downward as Fujin releases the wind to the earth. However, I decided that the bag would curve upward in a more traditional maedate form. I came up with the center of the maedate as the 'bag', with the symbolic released wind curving upward out either end as if Fujin is releasing the windstorm.
Together, the bag – a soft and rounded form – combined with the wind, formed by almost blade-like shapes, symbolize the dual nature of wind. Wind as a breeze can be soft and gentle, but wind as a hurricane can be hard and destructive. "
Similar But Different: Raijin and Fujin as Twins
"I also wanted to include both kabuto having a beard of some sort. I normally do a lot of hand finishing to my sculptures. This has included painting, metal leafing and lacing. If I were to do hand finishing on these kabuto, I could have made the beards by attaching hair-like material to the menpo similar to the mustaches found on some traditional menpo (face).
However, for this project, I would not be doing any finishing to the kabuto so I chose to render the beards in a similar way to their appearance in many drawings – as wavy spikes.
One of the last pieces I created was a yoroi (suit of Japanese armor). It featured segmented sections that were laced together following traditional lacing patterns. I wanted these kabuto to also feature lacing.  But, because I would not be doing any actual lacing to these kabuto, I decided to add faux lacing to the shikoro (neck guard).
I usually apply color to my sculptures, which plays a huge role in how pieces read visually. I designed a previous set of kabuto (the Oni and Tombo kabuto) in a similar fashion as Raijin and Fujin. Without color, I also had to rethink some ideas on how to differentiate the two kabuto. I did not want them to look entirely different; I wanted them to feel like twins. Not only like they came from the same universe, but like they belonged together as a pair.
The maedate and fukigaeshi are highly visible elements of the kabuto. Making them bold and obviously different signals the viewer that these two kabuto are not the same, especially because these elements can be seen from all sides. Striking the balance between two similar and different kabutos would create a great deal of visual interest when the two were seen together. It will cause people to examine each piece, spending more time looking at them and discovering all the nuances of each kabuto. I strive to keep the audience's attention as long as possible."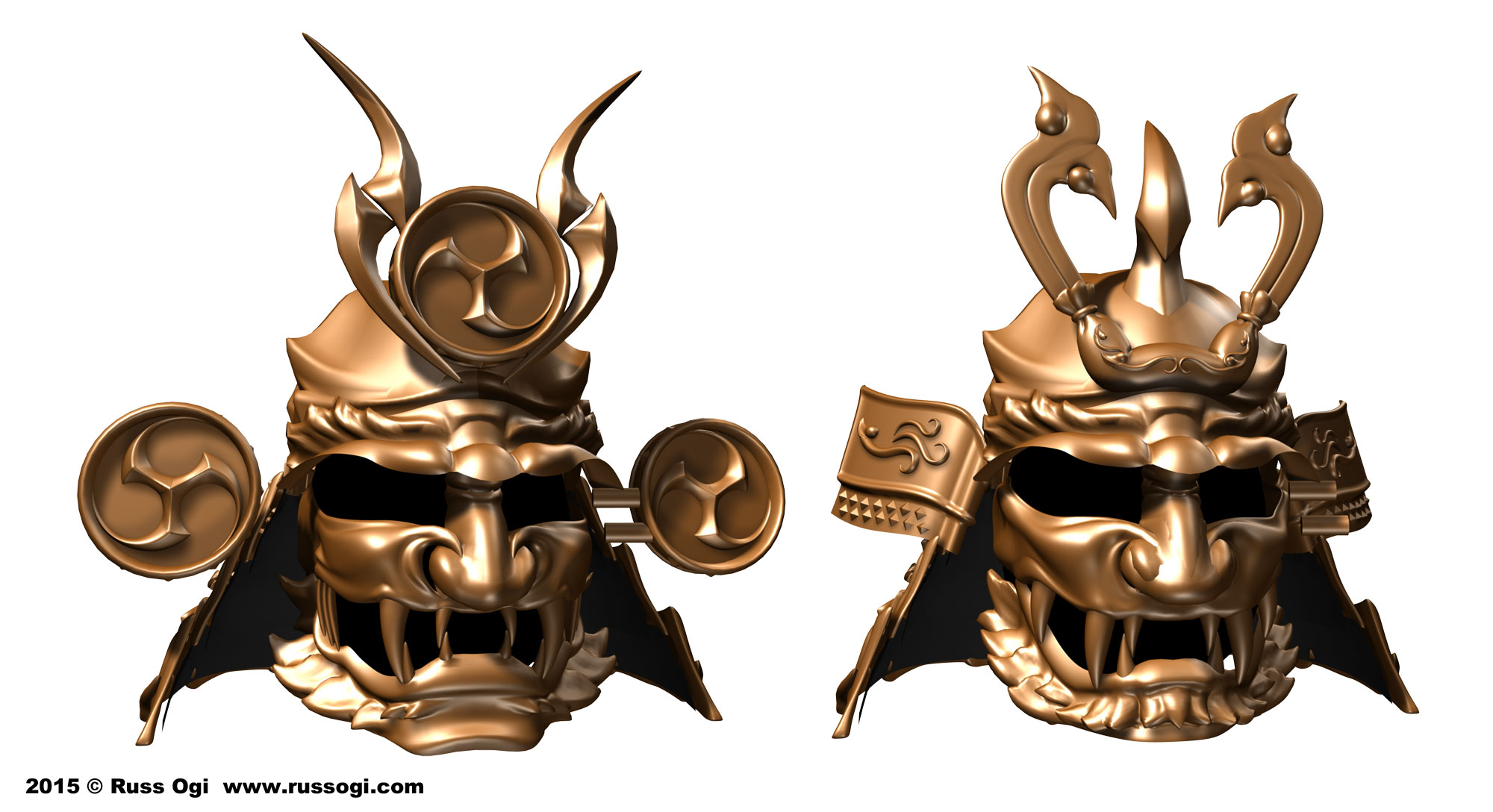 Wondering what happens now with the 3D Fujin and Raijin kabuto models Russ designed? Of course, we're 3D Printing them! We'll uncover further developments in the Fujin and Raijin kabuto project on this blog soon. Stay tuned!
Russ Ogi is a Hawaii-based mixed-media artist. Being from a crossroad of cultures, he grew up with Eastern and Western influences. The result is a unique fusion of Eastern and Western aesthetics and tradition. He often begins to work without a defined sketch and the final piece is revealed as he sculpts digitally. You can find more of his work on http://russogi.com/