3D Printing Materials Overview: 100 Materials & Finishes Explained
by Fabian | December 17, 2015
With such a great variety of 3D printing materials to choose from, it can be difficult and confusing to find the right one. But don't worry—in this post we'll discuss all major 3D printing materials and provide you with small previews and links to learn more about each.
We'll talk about all 19 materials and more than 100 finishes that we offer here on i.materialise.com now! To make things easier, we'll split this article into the following three sections:
3D Printing Materials in Plastics
3D Printing Materials in Metal
Other 3D Printing Materials (Wood, Ceramics, etc.)
3D Printing in Plastics
For plastic 3D printing, the most popular choice is Polyamide – it's a strong and flexible nylon plastic. Its natural color is white, but it can be dyed in several colors. Its surface is somewhat rough but it can be smoothened. The printing process (Laser Sintering) uses powdered Polyamide, and thus enables designers to use it for interlocking & moving parts (i.e. creating a chain). Polyamide powder can be mixed with Aluminum particles, which will give you a 3D printing material called 'Alumide'.

Another popular plastic choice is based on resin. Resin 3D prints are made from a liquid Photopolymer cured with UV light (Stereolithography), and feature a smooth surface. Resin 3D prints can be mammoth or transparent. Resin printers can be huge – our biggest printers can print up to 2100 millimeters! If you need prints with an extremely high level of detail, there's also an HD resin material. Scale modelers prefer a resin called 'gray resin' which is known for its affordable price.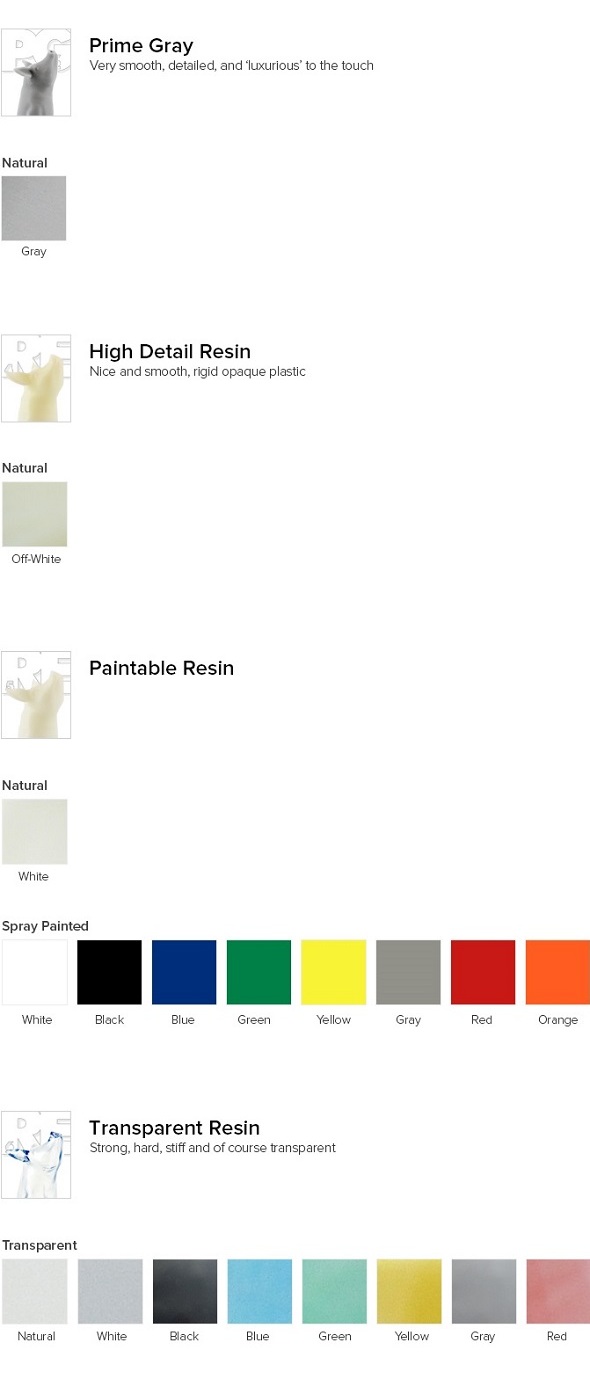 Another plastic material is ABS. This material will give you a print that is strong and accurate. ABS is very useful for functional applications because it matches 80% of the properties of real injected production material. However, the surface quality of the models produced with this material is rough in comparison with other materials.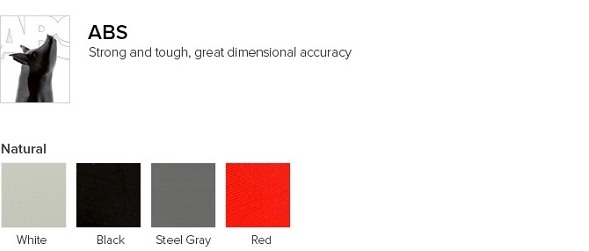 3D Printing in Metal
Titanium is the strongest 3D printing material out there. It has a matt look and comes with an upscale price. If you are looking for a cheaper alternative, steel is a great choice. Steel comes in several colors and can be polished. If you're looking for an extreme level of detail, HD Stainless Steel might be what you are looking for. All of these materials are printed from their powdered forms. While titanium is laser-sintered directly, steel prints are created with the use of a binding agent and curing oven.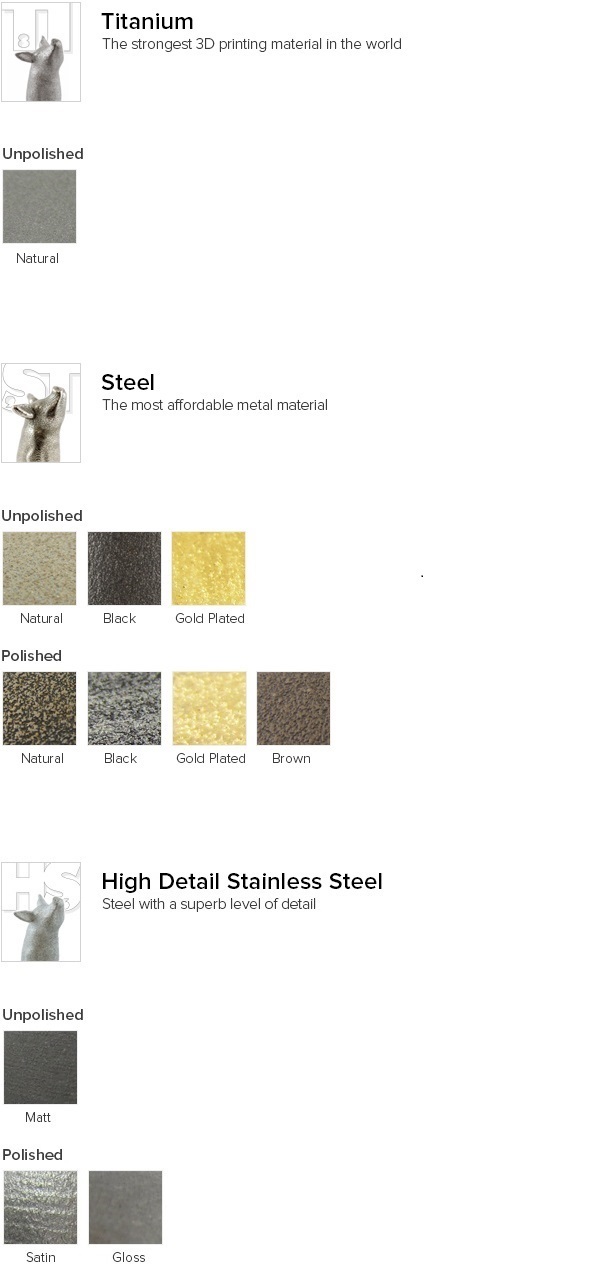 Models in silver, gold, brass, bronze, and copper get casted. Each of these metals has several finishing options. Gold objects can be created in 14k and 18k and in yellow, red, or white gold. Silver comes in five different finishes including our 'antique finish'. Brass, bronze, and copper can all be PU-coated and polished.

3D Printing in Other Materials
'Multicolor' is the only material that enables you to print models with more than one color. Models made of multicolor are constructed from a fine, white, granular sandstone powder. The interior of the model stays white while coloring print heads 'paint' the exterior of your model. Designers can also choose between a matt and a gloss finish.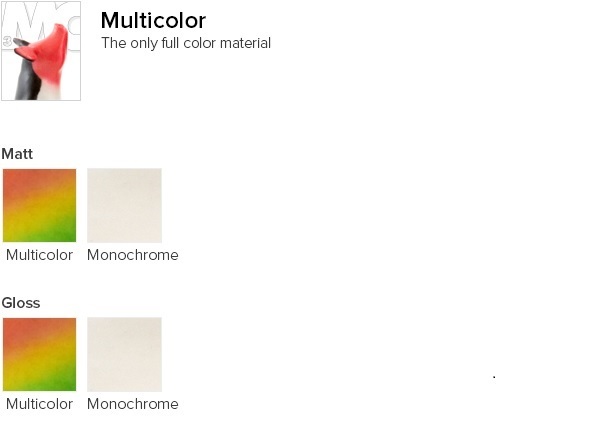 Powder-based printing technology is also used to create ceramic prints. The printer's rolling mechanism spreads thin layers of ceramic powder on a platform, and a print head places an organic binder at specific locations. Ceramic prints are literally 'glued' together, layer by layer, and then fired in an oven several times. Ceramic comes in seven different color finishes.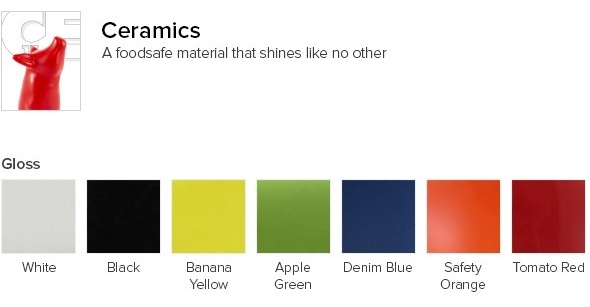 3D prints in rubber-like are really flexible and printed in Laser Sintering machines. The surface of this material is somewhat sandy and granular. Its technical name is TPU 92A1, a Thermoplastic Polyurethane. Technically, rubber-like is a plastic material, however, we put it in the 'other' category to highlight its extraordinary material characteristics.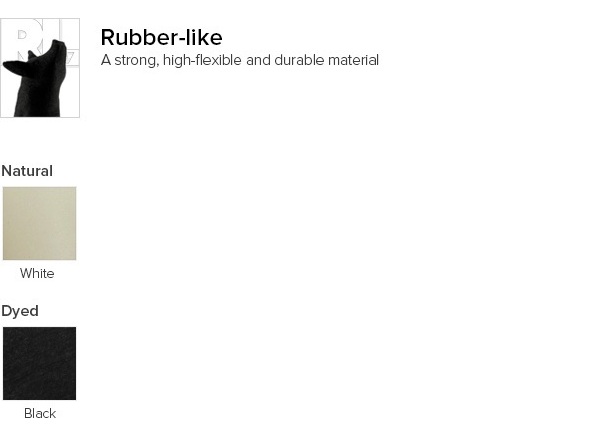 Models printed in wood are constructed from a brown, very fine powder made from wood chips. A wooden 3D print will have a brown, granular, rough look. Keep in mind that this material is slightly porous—if forced, objects printed in wood can break.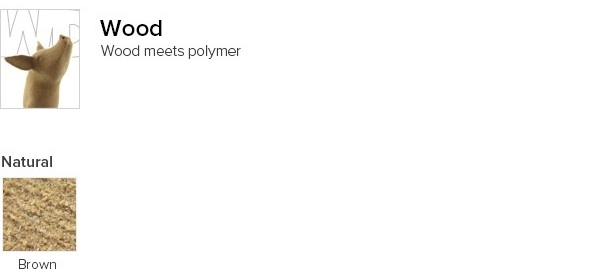 Learn more about each specific 3D printing material in our overview table here. You can discover more information about all of our 100 different materials and finishes there. Once you've found the material of your choice, upload your 3D file here, select your material, and receive a high-quality 3D print right at your doorstep.