3D printing a GoPro Scuba Mount
Described as the world's most versatile camera, GoPro has sold over 3 million cameras over the past three years. It's a camera that is quite unlike what you are used to. A GoPro is not meant to be handheld but to be mounted on surfboards, skateboards, helmets, bikes, and so on. And if the standard sold mounts are not your thing, you just design one and 3D print it. Just like Felipe De La Torre, a high school senior/scuba diver from Pacoima, California did.
"This was my first 3D printed design. I always found the technology really interesting… thought I'd give it a go. Honestly, it was a bit difficult for me to design this, considering I didn't have much experience going into this. However I got ideas from similar mounts and figured I would make a derivative composed of multiple ideas. Luckily, it worked out in the end… the design was everything I thought it to be." – Felipe De La Torre
Why a tool for his camera? Well… the real reason is that he just didn't have the heart to drill a hole in his mask and use a tripod mount for the camera. Felipe wanted to make something that was practical and lightweight. Therefore, he designed the mount and 3D printed it in alumide. That would allow the camera to just sit on the side of the mask, giving a wonderful POV shot alongside the pleasure of enjoying a dive without worrying about the camera. The mount is very sturdy and it works like a charm! Obviously, he already took it for a dive at Matador Beach and the camera had no trouble staying on. Now, it's Felipe's favorite tool for his camera.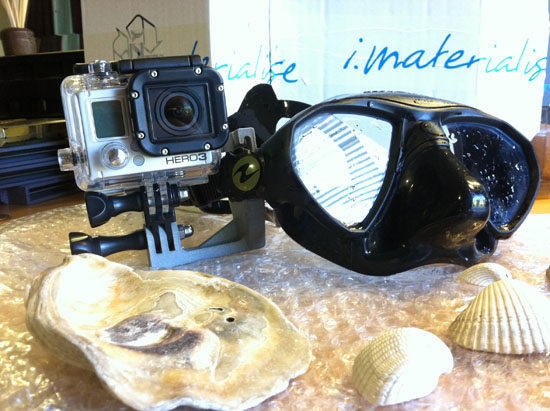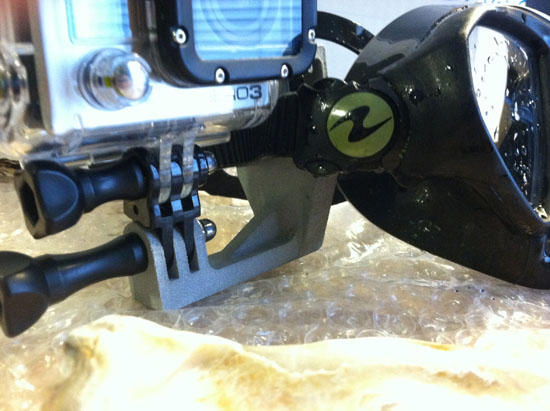 Lately, we've been printing an awful lot of different GoPro mounts. So, if you've printed a mount for your skateboard, bike helmet, car, model train…don't hesitate to share it on our forum. We're looking forward to it!