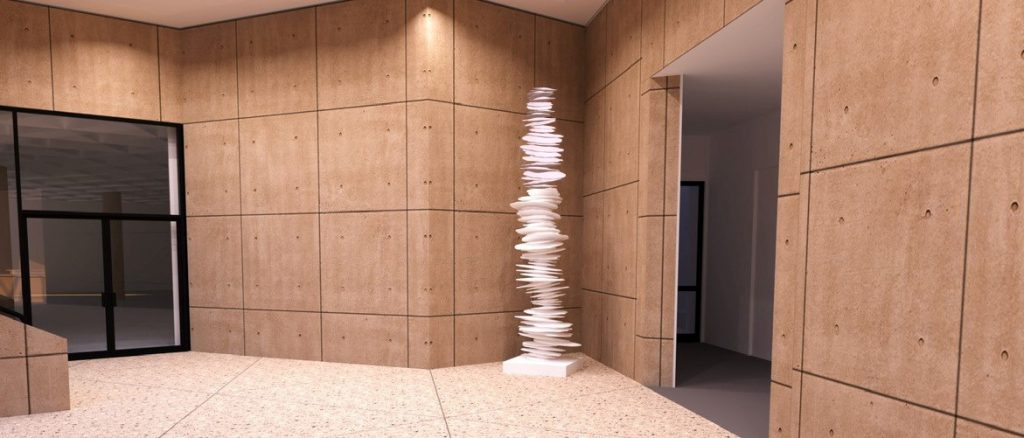 Artist Steven Naifeh Creates A Stunning Sculpture Inspired By Desert Roses
by Elizabeth | December 11, 2019
Desert roses are not only the name of a flower that blooms in arid environments — they are also what is referred to as a natural phenomenon in dry, sandy conditions when minerals form clusters that resemble rose blossoms.
Artist Steven Naifeh became inspired by these forms. His parents were in the U.S. Foreign Service and he spent his youth traveling the world to places where these crystalized rose-like structures appear, such as Libya, Jordan, and the United Arab Emirates.
Art has always been an important part of Steven's life, starting at the age of ten when he first started creating his own. About 15 years ago, he once again began making art himself and created a series of large-scale paintings and sculptures based on geometric art from throughout the Middle East as well as modern sculptures inspired by these desert roses, with spectacular results.
Then, earlier this year, the Eskenazi Museum of Art at the University of Indiana commissioned Steven to design a large sculpture to go into the atrium of a newly renovated building by I.M. Pei, designer of the National Gallery's East Wing in Washington, D.C.
He knew that they wanted a desert-rose-inspired work and it was clear that the Museum needed a tall, vertical object. Steven then came up with the idea of stacking the petals of the desert rose one on top of each other in such a way that the static piece would have dynamic energy.
As he said in his own words: "I wanted the petals not to fit just flat, one on top of the other, but to change direction and size. Even though they had to stack for structural reasons, I wanted them to appear as though they are revolving, so that they had a kind of cyclone effect, to give the work a sense of motion. There was a lot of careful readjustment of the angles in order to create this sense of balance and dynamism."
With just six months before the November 6th ribbon-cutting ceremony, Steven began designing in CAD as knew he wanted to 3D print the pieces of the sculpture. With his previous 3D-printed creations, he had been pleased not only because the method is fast and is easy to make multiple iterations, but also because of its freedom of design.
Steven began creating geometric-inspired art 15 years ago. He began creating the petals with three capabilities in mind: to be adjustable by thickness, to be movable along the spine of the sculpture, and to be angled in various positions. He wanted the sculpture to stand at 12 feet (about 3.65 meters), meaning that the structural integrity was a big factor in designing the piece.
According to Steven: "In addition to all of the artistic challenges, there were all sorts of technical challenges for separating the petals in a way that the interior rod wouldn't be visible. There also needed to be a mating surface between each section large enough to satisfy the engineer's requirements for structural integrity. We didn't want the thing to collapse!"
Even with these rigid constraints, Steven created a virtual object that he was pleased with and 3D printed it: "I don't know that I could have gotten as much flexibility if I used another technique. It yielded easily to minor alterations in size, shape, direction, angle — all the properties I needed to work with to create a swirling effect and balance."
Steven was able to meet the ambitious six-month deadline with some help from the i.materialise team, even ordering miniature versions to analyze different iterations and make adjustments from there.
"I want to express my gratitude for i.materialise and to Anna, my contact at i.materialise, for organizing this so quickly and so efficiently. It was such a complicated work to design, and by the time we worked out all the details we were up against a very tight deadline."
The final designs were uploaded to i.materialise to be printed in Polyamide, which was determined to be the most suitable material because it is an exceptionally versatile, strong material. "It is a beautiful material," says Steven. "It has the look and feel of bisque porcelain."
The sculpture was printed using Laser Sintering, in which the pieces are printed layer by layer by a laser that draws thin lines in the powder, which melts and bonds it together in order to form a thin layer of the piece. Then more powder is placed on top and the process continues until the print is complete.
From the time Steven submitted the final design, the Polyamide prints were complete in just three weeks — in time for the opening ceremony.
"I'm very happy with the results and thank i.materialise for their hard work in helping to make this possible!"
Ready to 3D print your own projects? Upload your 3D model to get started.
Discover the latest 3D printing news, materials, creations, and more with the i.materialise newsletter.
Main photo credit: Shanti Knight