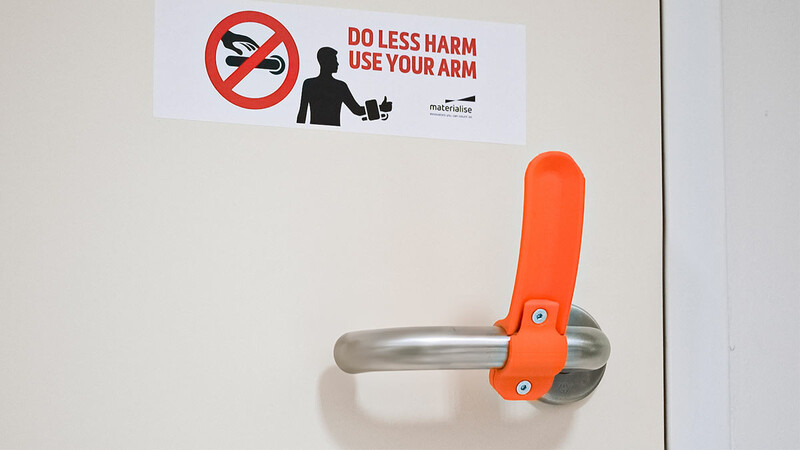 Slowing Coronavirus Spread With 3D-Printed Hands-Free Door Openers
COVID-19 is currently at the top of everyone's minds, and health professionals have made it clear that one of the best ways to stay healthy is to avoid touching public surfaces, such as door handles, with your hands. Door handles are among the most germ-infested objects in houses, hospitals, factories, and elderly homes, and these germs can easily enter your body if you touch your face after opening or closing doors with your hands.
The mission of our parent company, Materialise, is to build a better and healthier world. As the coronavirus continues to spread, we're doing our part to help the world in the way that we know best — with 3D-printed designs. More specifically, door openers that go over existing handles so people can open and close doors with their forearms instead of their hands.
Inside out
What started as an internal discussion on protecting Materialise employees during the COVID-19 pandemic turned into a task force to create a design that can help people throughout the world avoid the germs that live on door handles. It's important to our team to not only create fast and smart solutions to address significant issues, but to make them available to as many people as possible.
With this in mind, we are making our door opener design files available for free, with different models to choose from.
"This is a time when we as a community can work together to help each other out in any way that we can. We believe in using 3D printing to empower meaningful applications — solutions that truly make a positive change. This is one concrete way that we are standing behind our mission," says Fried Vancraen, CEO of Materialise.
Ease of use
Our engineers designed with fast and easy installation in mind. The ultimate goal of this project is to help keep people healthy during a time-critical crisis, so we needed to share a solution that isn't complicated to set up. Instead of drilling holes or replacing handles, you can simply place the 3D-printed parts over your existing handle and fasten them together with screws. You can read or watch our mounting instructions here and learn how to quickly get it set up.
Once your opener is in place, open and close doors by simply sliding your forearm into the space between the opener and the door, press down to unlatch, and pull inwards or push outwards to get moving. We recommend using the device with covered forearms to prevent contact between the device which may harbor germs and your skin. This door opener can get contaminated, just like the door handle it sits on, so make sure to disinfect it regularly.
Conception to final part in 24 hours
An advantage of 3D printing is the speed with which our Design and Engineering team can bring ideas to life with the assistance of powerful additive manufacturing software, such as 3-matic and Magics.
"The power of 3D printing in combination with Materialise's three decades of 3D printing expertise made it possible to turn an idea into an innovative product in less than 24 hours," says Fried. "By making the design available digitally, it can be produced on 3D printers everywhere and become available around the world in a matter of hours."
Furthermore, the ability to share a digital design file means that this part can be printed globally by simply clicking download and sharing the file with a printer. People don't have to wait days for a part that is shipped halfway across the world. They can instead print it themselves or share the designs with their local 3D printing factory to be shipped out within hours. By downloading, you are free to share and adapt the design as you would like. We would simply ask that you attribute Materialise if possible.
"We call upon everyone who has access to a 3D printer to 3D print this part and to make this part available to their local community in order to make door handles safer," says Fried.
Get yours and stop spreading germs
So, how can you get hands-free door openers to minimize risky contact? The design files are free for anyone and everyone to download on the Materialise website and are available in STEP, STL, and X_T formats. From there, you can print it yourself using Multi Jet Fusion (MJF), Laser Sintering (SLS), or Fused Deposition Modeling (FDM) technologies, or order through your local 3D printing factory.
We want to make sure the part is available to all, so if you don't have the capabilities or options available to 3D print using our design file, you can visit our i.materialise shop to order an opener directly in MJF or SLS.
Installing a hands-free door opener is the first step towards reducing the spread of germs, but using it correctly is crucial in achieving its purpose of helping people stay healthy. Adhering an informational sticker on doors with the openers, which is free to download and included in each i.materialise order, gives each user clear guidance on how to use it.
Soon after launching, we were glad to see the positive responses coming in and to hear that others believe in this change as much as we do. Together, we can make the change to hands-free door openers and keep ourselves and those around us healthy.
Help slow down the spread of coronavirus today! Download the free design file or order the hands-free door opener from the i.materialise shop.
*We do not guarantee that you will not get COVID-19 if you use our design.