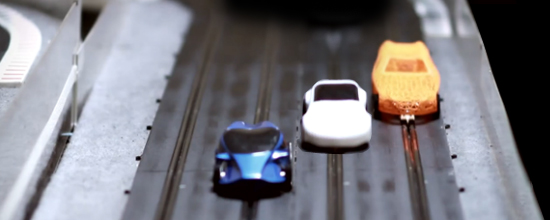 3D Print Your Way to the Finish Line
by Yui Takahara | June 13, 2014
Slot car racing has been popular among hobbyists since the 1960s; however, customizing slot cars with 3D Printing is quite a modern approach. Today we're featuring four miniature 3D Printed cars that competed in the 2014 Slot Car Championships in Detroit as part of the RAPID Conference.
Brian Hamilton's Arthropoda
Many of you might have already seen this incredible biomimicry slot car designed by Brian Hamilton. Arthropoda, winner of our Slot Car Challenge, was inspired by sketches from the "Art Forms in Nature" series by Ernst Haeckel. Brian tells how these designs inspired him to merge the physical structure of a prehistoric creature with the aerodynamic stylings of a modern-day supercar. The body mimics the earliest known group of extinct arthropods, the Trilobites, and was 3D Printed in natural white polyamide, enhancing its bony shape. As a prize for his success in the challenge, Brian was awarded a print of his design.
Paintable Resin Car
i.materialise's Product Designer Bert designed the other three cars you see racing in the video. One of the unique features of this miniature car is the "tail" that tapers off with a soft curve. "I wanted to design something that can be realized only with 3D Printing," Bert explains. The body was 3D Printed in paintable resin and finished with high-gloss spray paint to create a shiny look. The material applied to the rims is alumide, which gives an authentic steel-like texture and color.
Lightweight Car
The third, bright orange entry, was designed on Materialise's 3-matic software and 3D Printed in polyamide. 3-matic has a module that transforms 3D designs into lightweight models while still providing needed strength, flexibility and rigidity. As reducing a slot car's overall weight generally improves its acceleration, this module provides a lot of potential to maximize the performance of your slot car. But this model has a playful side too: if look closely inside the car, you'll find a tiny driver inside! The openness of this module lets you build in fun details like this and 3D Print them together with the body.
Textured Car
Our final model car takes a sleek, futuristic approach to design. This minimalistic design features a smooth body with matching rims, 3D Printed in high detail resin and painted with a satin white spray. To add impact to the design without compromising its potential for speed, Bert incorporated a unique striped surface using the texturing module within 3-matic and added red rear lights you can watch as it speeds off in the distance.
Check out this video of the Slot Car Championship in Detroit to see many more examples of 3D Printed slot cars! Materialise is organizing another championship to be held at EuroMold this November. If you think your 3D Printed miniature car is up for the challenge of the race, sign up on the Materialise website and we'll see you at the starting line at EuroMold in Germany!