Multicolor is the only material that can produce full-color 3D prints. The material is a full-color plaster that comes with a glossy or a sandstone surface. It's the perfect material for colorful models at an affordable price. The end product is hard but brittle, so please handle it with care.
Ships as of 7 business days
Design Specifications
Minimum Wall Thickness
1.7 to 2 mm (depending on dimensions)
Minimum Details
0.8 to 1 mm
Interlocking or Enclosed Parts?
No
Pricing Info
The pricing for Multicolor is based on model volume, which is the volume of your model used to calculate the material cost (mm³).
Additionally, a startup cost is applied to the price of your model. This is a fixed cost independent from the parameters of your model. For Multicolor, we also charge a minimum price per ordered piece. Unlike the startup cost, this cost vanishes when the price is higher than the minimum price.
If you order two or more copies of a model, the price automatically decreases because the preparation of multiple copies can be carried out more efficiently.
Typical Use
Multicolor can be used for non-functional models such as figurines, avatars, memes, or architectural models.
Technology

ColorJet Printing builds up the model from bottom to top, layer by layer. A roller puts a thin layer of powder onto a platform and a print head places tiny drops of glue at specific locations, printing a thin layer of your model. The platform lowers and the roller spreads another layer of powder. The coloring is done by combining four different pre-colored types of glue to match the requested color. The surface can have almost any color since the printer prints up to 24-bit colors, equal to 16.7 million different colors.
After the printing process, the model is brittle but is strengthened by submerging it in superglue. A UV coating is sprayed on it to prevent discoloration by sunlight.
Additional Information
If your 3D file doesn't contain any color information, it will result in a slightly off-white/grayish print
For multicolor, you must either upload a file that already includes the textures (e.g. colored STL, VRML, SKP, X3D, and DAE) or a ZIP file containing all the necessary color information (e.g. an OBJ file with a texture map and an MTL file). Please consult our design guide for more information about textures
The model needs to be handled with care. Even after reinforcing the model with superglue, the model stays fragile and has problems absorbing shocks
Take into account that the walls of your model need to be 1.7 to 2 mm thick and the details of imprints can be 0.8 to 1 mm. Long, delicate features like pins, thin fingers, tiny hair points or antennas that are 0.8 to 1.7 mm and stick out might not survive the process
The surface is granular but smoothed thanks to the UV coating
Exposure to direct sunlight will cause your multicolor model to fade over time
Moisture will ruin the color of your model
Skin tone colors and black are difficult to reproduce, so some variation in color will occur. In our design guide, we explain how you can improve colors
Sample Kit
Learning about our materials is one thing, seeing and touching them another. That's why we've designed sample kits based on our Periodic Table of Materials.
Basic Sample Kit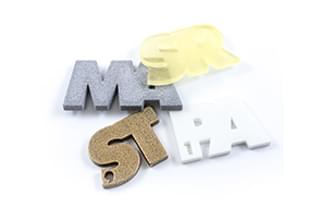 Includes a sample of polyamide, alumide, multicolor (matte), standard resin and steel (natural polished).
Multicolor Sample Kit

Includes a matt and gloss Multicolor sample.