by LooplyCase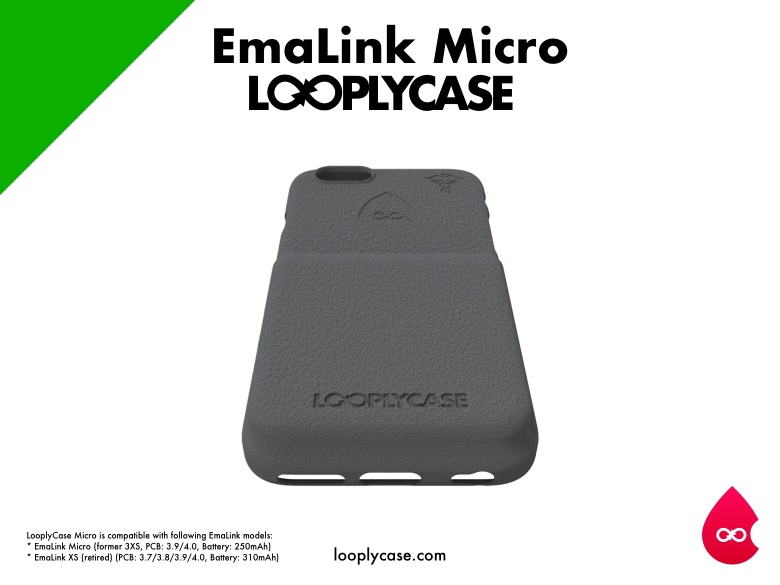 Description
Important: If you have purchased your EmaLink Micro before 02-April-2021 this model is compatible. If you have purchased your EmaLink Micro after 02-April-2021 you should order LooplyCase EmaLink Micro V3.

https://i.materialise.com/en/shop/item/iphone-6-emalink-micro-v3-looplycase

Keep your Phone and EmaLink together in one place with LooplyCase.
LooplyCase Micro is compatible with following EmaLink models:
EmaLink Micro (former 3XS, with caps) (PCB: 3.9/4.0, Battery: 250mAh)

EmaLink XS (retired) (PCB: 3.7/3.8/3.9/4.0, Battery: 310mAh)
Designed by LooplyCase to complement universal Phone sizes, the form of the case fits snugly over the volume buttons, side button, and curves of your device without adding bulk to help protect your Phone & EmaLink.
On the outside, a rubber-like material with a grainy finish fits nicely in the palm of your hand adding grip. You can keep LooplyCase on at all times, even when you're charging your Phone & EmaLink. On the inside a specially designed inlay holds and protects your EmaLink and it's battery.
Features:
Protects your Phone & EmaLink

Shock-resistant & compact

Lightweight

Charge your Phone & EmaLink (USB) without removing LooplyCase

Sleek and ergonomic design

Rubber-like Material with a grainy feel

Designed in USA, Made in Europe
Material Color: Please note that the color could vary and range between dark grey to a lighter shade of grey. LooplyCase undergoes testing throughout the design and manufacturing process, and not only does it look great, but it's built to protect your Phone & EmaLink from scratches and drops.
Every LooplyCase is made to order and cannot be returned. This model is not compatible with EmaLink Maxx. Please make sure to select the correct model before placing your order.
LooplyCase is not liable for any damages and malfunctions on your EmaLink.

In case of emergency call 911
Keep it Together!

LooplyCase
LooplyCase
Phone cases with specially designed inlays for RileyLink & EmaLink Keep it together and never leave your RileyLink or EmaLink behind.