by Carl Hoff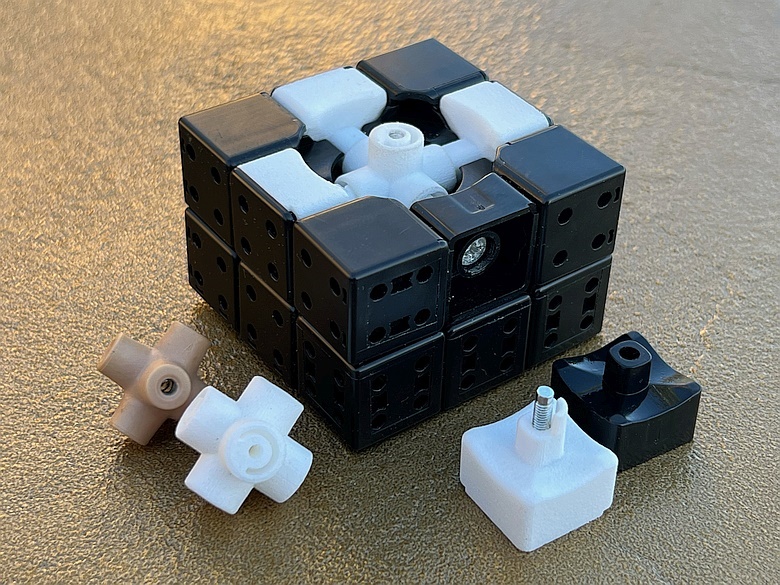 Description
This is an additional component kit, designed for use with the mass produced Cubetwist Bandaged 3x3x3 Kit, available here:
https://www.thecubicle.com/products/cubetwist-bandaged-3x3-diy-kit.html
https://cubezz.com/Buy-3821-CubeTwist+Bandaged+3x3x3+Magic+Cube+DIY+Kit+Black.html
This kit adds the ability to independently exchange Center Pieces. This allows you to fix any /all 6 Center Pieces, and/or add 90° or 180° constraining to any /all 6 Center Pieces.
This kit consists of:
Two replacement cores,
Two X-Centers,
Six 90° Constrained Centers,
Six 180° Constrained Centers.
Note: The original Standard Centre Pieces can still also be used.
A small amount of modification, by sanding, needs to be made to the Corner Piece footings on the Cubetwist puzzle (as seen in the photographs).
Please note: The Cubetwist puzzle needs to be purchased separately, and slightly modified, to make a complete functioning puzzle.
For more information see the Twistypuzzles topic here:
http://twistypuzzles.com/forum/viewtopic.php?f=4&t=29556
Carl Hoff
Welcome to the i.materialize shop of Dr. Carl Hoff. I started publishing twisty puzzle designs back in January 2007 on TwistyPuzzles.com. Up until 2011, all my designs were made in POV-Ray which doesn't allow saving in a format suitable for 3D printing. However after seeing other designers offering 3D printed designs for sale, I've now taught myself some tricks and I'm offering my designs for sale here.