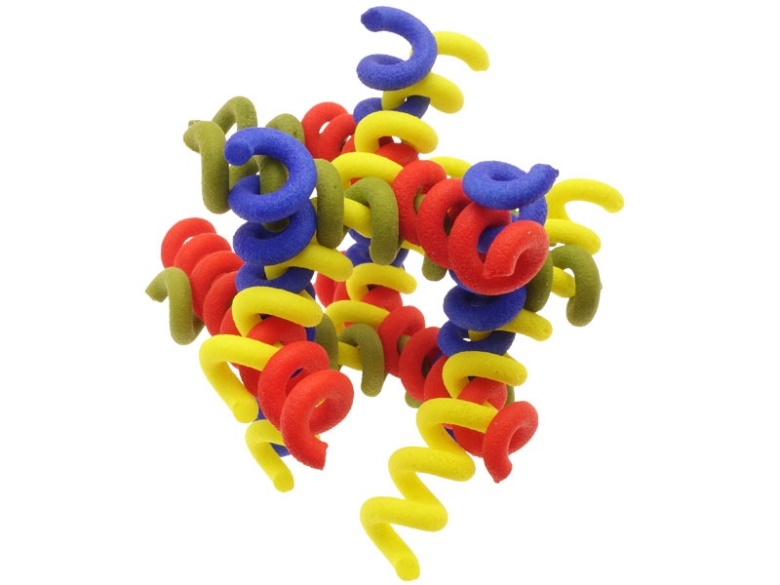 Description
Bamboozle Spirals is a set of spiral pieces that needs to be put together. I (Oskar) designed these spirals originally August 1993. The object is to put the twelve spirals together in a symmetrical way. A seasoned solver would immediately look for a crystal structure with tetraheral geometry. Surprisingly, that does not work. Only recently, I learned that I had rediscovered the Laves Crystal (1932), which was also recreated as the Bamboozle geometry by Koos and Tom Verhoeff (2012). This is an infinite geometry that has some spiral slide-rotate symmetries.The assembly of Bamboozle Spirals forces the solver to build this peculiar geometry. The achieved local symmetry is a three-fold rotation.

Watch the YouTube video.

Read at the iMaterialise Forum.

Read more at the Non-Twisty Puzzles Forum.

Please order a 3D-printed do-it-yourself puzzle kit from iMaterialise at this page (check with Oskar about screws and stickers), or contact Oskar directly if you are interested in obtaining a fully colored, stickered and assembled sample of this puzzle.
Oskar van Deventer
Oskar Puzzles offers mechanical puzzles and objects that can only exist thanks to 3D printing technologies. All designed by M.Oskar van Deventer.