Wonderboy Guto Requena makes 3D printed chairs with the sounds of the city
by Tatiana | August 16, 2012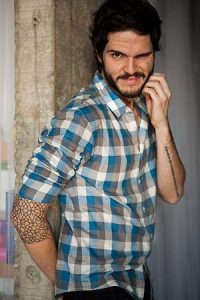 "The digital culture changes our relationship with design and the way we build our cities," Guto Requena said in Freundevonfreunden.com, an online interview magazine. When it comes to designing the Brazilian architect pushes the envelope.  He recorded the typical citysounds of São Paulo and let it determinate the design.
As a little child Guto Requena always dreamed about architecture. Then finally, when he started studying architecture he became more and more interested in digitalism and technology. At this moment  he is one of the most innovatist architects of Brazil  and with his studio Estudio Guto Requena he tries to push the projects he really wants to do.
FUTURE
Requena believes the digital future can make people closer and he tries to experiment with all kinds of design. One of his latest collections is called Nóize, which is inspired by three iconic Brazilian chair designs: Oscar by Sergio Rodrigues, the São Paulo by Carlos Motta and the Giraffe by Lina Bo Bardi, Marcelo Ferraz and Marcelo Suzuki.
URBAN SOUNDS
For this collection he uses these former iconic designs as basics but reforms the digital models by using recorded cityvoices, urban sounds,…etc. through a computerprogram. He recorded these noises in different neighborhoods on the streets of São Paulo. The eventual designs were 3D printed at Materialise and are references to the beautiful hidden places in São Paulo's neighborhoods.
Watch the videos below to discover more about Requena's vision on architecture and hear his recordings he used to develop the chairs.