Luigi Vaghi and Miel Wellens win our Urban Nomad contest!
by Tatiana | October 1, 2012
We saw many nice entries, but of course only one per category can win. After the votes of Flanders DC and our team were counted we selected the best entries . Miel Wellens and Luigi Vaghi are the winners of the challenge!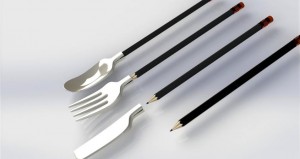 Miel Wellens was really pushing himself to the limit in this challenge; we received four designs and each single one was very popular amongst the jury members. He is the big winner of this competition; he wins his 3D prints 'Pencilery' and 'Paperspin' in the categories stainless steel and polyamide, besides that we will showcast his design at the festival of creativity. I think these two items need a little explanation. The designer invented a new word, especially for this design, namely: pencilery = pencils + cutlery!
Why this fits in the theme? Wellens: "Even on the road you want to eat with descent forks or knives (instead of the crappy plastic ones), so that's how I came up with this easy solution. They also fit at the back of pencils, for those creative people who even can't stop doodling while on a lunchbreak." As soon as this can be printed in foodsafe material, we will have a very fine object in our gallery.
Luigi Vaghi's design 'Amplifier' on the other hand could convince to win his 3D print in ceramics. Can't wait to hear the sound through this design! The 'Amplifier' will also be seen at the festival of creativity.
We want to congratulate and thank all the people who send in their design for the challenge and encourage them to go further with their designs. They will all get a discount of 10 %, for their next unique design at i.materialise.
Don't forget: our Christmas Ornaments Challenge just started off, don't miss it!