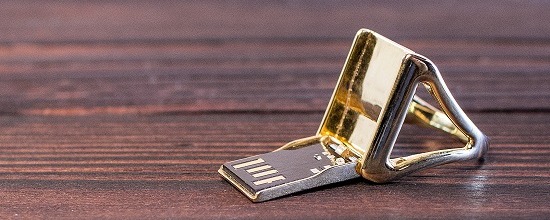 UU-U Memory Ring: Harder to Lose, Easier to Find
by Darya | October 30, 2014
How many times have you been digging into your bag in search of a flash drive buried somewhere underneath all your stuff? How many times have you misplaced a drive at university or at work and not known where to find it? If the answer to both questions is "many", then you should definitely check out the UU-U Memory Ring created by Portsmouth designer Ming Wu. This is a flash drive designed to be worn!
The Memory Ring started as an idea last September and was originally designed for a competition put on by Alessi. The concept was to create a ring that functions as more than just a basic object to look at and wear.
"Since digital data is pretty much a part of our everyday life, there are always memories that we want to keep, give to people and treasure. People may now still use CDs to store photos, or USB flash drives, but they often [go] missing or get repurposed. Even though it's the thought that counts, creating picture albums [of people as they grow up] and burning them into a DVD is not as romantic as other objects with sentimental value, like jewelry." – Ming Wu
After several months thinking over the concept, Ming was ready to bring his project into reality, first using a localfirm to print plastic prototypes. He created his designs in CAD and then tested the prototypes to decide which would be the most suitable and comfortable. The prototypes also proved useful in everyday work of Ming, his family and friends, as well as during his travels to different hackathons.
"The more it was being developed, the more ideas for what the project can be used for kept popping up: traveling, data gifts, anniversary gifts, pretending to be a secret agent with the hidden gadgetry. Creating a better and more efficient lifestyle for all of us." – Ming Wu
Finally, after numerous iterations and prototypes, it was time to create the final object and that's when Ming came across i.materialise. Upon receiving his model printed at i.materialise in Gold-plated Brass, Ming knew he'd found a winning result and hasn't used any other services since.
Despite being a complete beginner in bringing a product onto the market, Ming is off to a good start worthy of professionals – he produced several batches of prototypes, organized photo shoots, prepared marketing materials, and launched a Kickstarter campaign. Though the campaign is over, you can still send an email to sales@uu-u.uk for bespoke orders. Don't forget to follow UU-U Ring on Facebook and Twitter to get notified when the more affordable models become widely available!
Do you have any ideas of how to combine beauty and functionality? Share them with us in the comments!