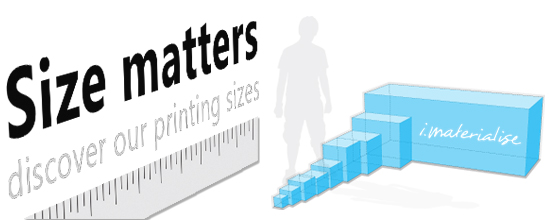 Tutorial Summer: Size matters!
by Tatiana | July 15, 2013
After Bert showed you the first steps of your 3D print as well as the different 3D printing techniques behind the materials that we offer in our 3D print lab. It's now time to discover the printing sizes: because size does matter!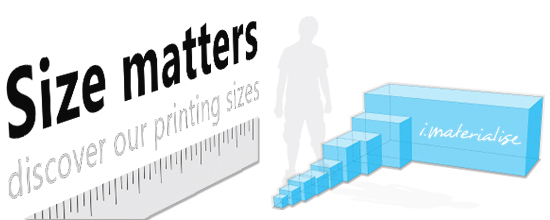 Bert: "Every material has its own 3D printing technique and therefor its own set of design specifications including the printing size. An important driver in your design process will be the size of your design. Each material has its own machine which has a limited building volume. This volume is the maximal 3D space an object can be, printed as one entity and is indicated on the material page and in the design guide of our materials."
"To allow an easy comparison between the different materials, we created an overview of printing sizes for plastics, metals and other materials. For paintable and transparent resin designs we offer you the largest building volume. These designs will be printed on machines manufactured by Materialise and were called 'Mammoths' for obvious reasons. These machines are one of the highlight during our 3D printing Meetups at i.materialise."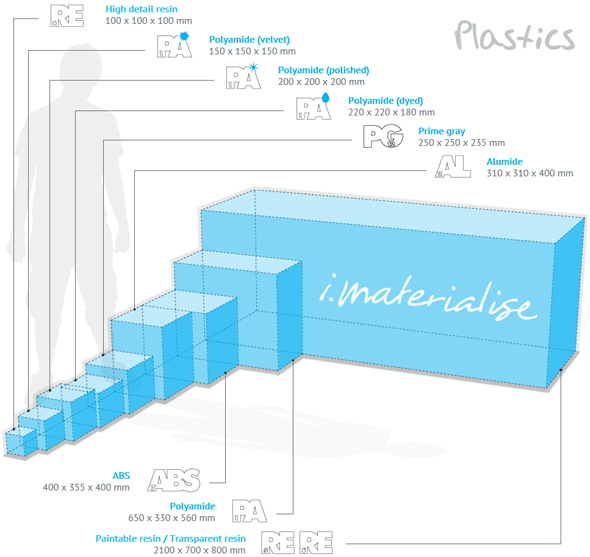 Bert: "On the other end of the spectrum, you'll find High Detailed Resin. High Detailed Resin has a smaller building volume to allow a higher level of detail. In the diagram, you'll see that different finishes of PA have diverse sizes. This isn't due to the 3D printer but due to the machines used for these post treatments."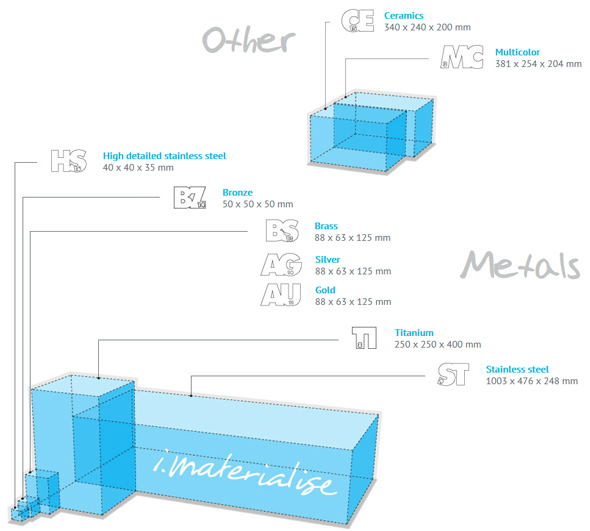 "For the metals, you'll see that High detailed Stainless Steel parts are not build on the same machine. This is logical because the resolution of HS is far greater than the one of ST. As you'll see Multicolor and Ceramics have a very similar size because the machines are very alike."
Enjoy discovering our material sizes (you can see the complete overview below). In a next episode of the tutorial summer you can expect more tips and tricks on how to go from idea to kick ass 3D printable model. Stay tuned!