The first fully-functional flexible material is entering the i.materialise building!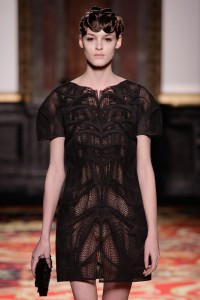 Did you like the latest Iris van Herpen dress with the strong and flexibe material? Then we have some good news for you: we're doing tests to offer you the same material!
IMAGINE
Wasn't it lovely to see the first flexible 3D printed dress on a model?  Designers and engineers have been challenging Materialise to come up with a flexible 3D Printing material that is durable enough to withstand the wear and tear of an end-use product, and TPU is their response. Materialise launched it ten days ago and now i.materialise is doing research and tests to provide you with this material as well. The official name of the material is TPU 92A-1.
Just imagine what you can do with it: use it for functional parts, objects that need shock absorption, fashionable items,…
CUBE
If you look at the pictures you clearly see just how flexible this material really is.
There is only one downside to this material: for the moment it can't be produced and distributed in the US directly due to distribution restrictions, not even by third parties. But hey, isn't that a good excuse for you to make some new European friends?
We'll keep you updated about TPU so stay tuned to discover how your designs can rock with this material. In the meantime; enjoy these nice movies about the material: