Take ordinary pictures with your iPhone and turn them into a 3D Model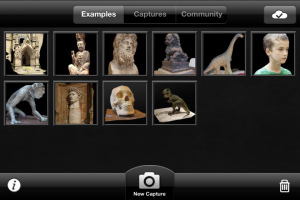 Autodesk 123D is making 3D printing so much easier in our everyday lives with their new iPhone application. From today on you can create 3D models by taking pictures on your iPhone and uploading it with the app.
It's always nice to walk around with your iPhone and make pictures of beautiful things you see. You can share it through social media or just show it to your friends. But how cool is it to have the opportunity to actual recreate a design you have seen? Autodesks 123D Catch for iPhone is all about recreating. And the greatest thing about it: it's completely free!
MODEL
LeeAnn Manon, Autodesk: "For people with limited 3D printing or 3D modeling experience, 123D Catch is a great way to create and print a realistic model. You can create a capture on your iPhone and then open it in the web app (it's automatically saved in My Corner). Just use the simple model editing and healing tools to finish it up for printing, and then simply click '3D Print it' to send it through the 123D printing service.
Stay tuned to see our review about the 123D Catch applications: To be continued…