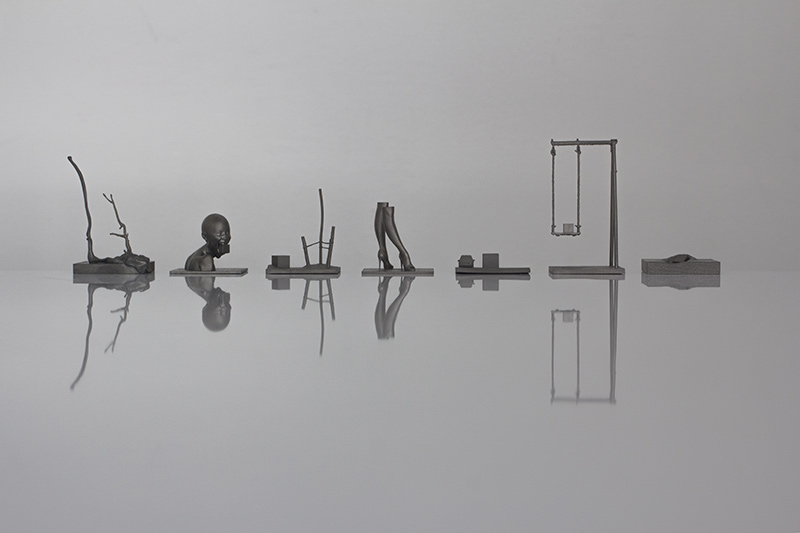 Take a look at Hugo Arcier's beautiful 3D printed titanium collection
by Tatiana | September 5, 2013
Hugo Arcier, a French digital artist, 3D printed his entire collection 'Dogma' in titanium. With this exposition he wants to honour Lars von Trier and the dogma he created in film. Check it out!
Hugo Arcier: "One of the frustrations for a 3D graphic artist is virtually sculpting volume objects which remain imprisoned in a 2D space (a screen, a print-out). New industry techniques today enable us to change this state of affairs : 3D printers. For this collection I wanted to use the most precise material : Titanium."
EXPLANATION
"With the aim of distancing myself from the realist aesthetic of the commercial projects in which I have taken part (special effects), I decided to set myself various highly restrictive rules for this series, in the hope that they would lead me towards unexplored visual zones. A dogma of constraints, in a purified freedom, in order to broaden the emotional scope of the viewer."
"For each print, I created a sculpture representing a part of the image (which you can see in the first picture). These sculptures materialize the virtual by giving it volume. They also allow viewers to see these objects and characters in volume and discover them through another point of view, and see the hidden parts. The spectator will thus be able to discover objects and people in volume, and see their hidden parts. There is interplay between the images and the sculptures. 2D and 3D versions of the same scene."
"Both supports, printing and sculpture, have their advantages. The images make it possible to create a mise en scène, and choose between lighting and framing options. The sculpture makes it possible to create the emotion of a concrete, physical subject."
One of these micro sculpture will be shown among some other works of myself at Show Off Art Fair 2013 in Paris (21 to 23 oct).
For more information about Hugo Arcier, take a look at his website.