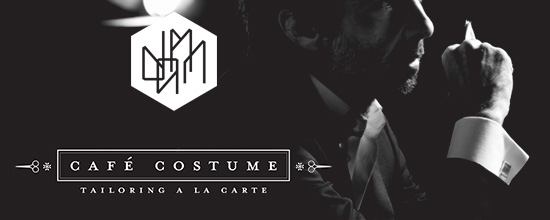 Suit Up for the DAMN x Café Costume 3D Printed Jewelry Collection (For Men)
by Franky | December 2, 2014
Introducing a unique partnership between Café Costume, architect designer duo DAMN and Twikit, a pioneer in 3D customization. Inspired by Kunstwerkstede 'De Coene', they have created a collection of customizable 3D printed cufflinks, tiepins and money clips. The collaboration ties in perfectly with the world of new craftsmanship, in which 3D printing makes it possible to give each item a unique character. 
The inspiration for the collection was found in Courtrai's record office while doing research on the works of 'De Coene', renowned for its love of and expertise in the traditional manufacture of laminated wooden trusses. As architects, Caroline and Kim from DAMN were fascinated by the innovative work that De Coene realized for Expo 58 (also known as the Brussels World's Fair). Gigantic spans for huge expo halls were realized for the very first time. The design process and the result were introduced during the Courtrai Interior Biennale 2014 at both Ventura and in the Café Costume shop on the Leiestraat.
Online Customization by Twikit
Twikit provided the necessary 3D customization technology to enable a cooperation between DAMN and Café Costume. Their easy online tool allows you to place initials or a word (5 letters max) to the shape of your choice in the material of your preference, Sterling Silver of Brass.
The collection of customizable 3D printed cufflinks, tiepins and money clips is available to order online. Can't make up your mind? Pass by one of the Café Costume shops (Antwerp, Brussel, Ghent and Courtrai) to have a closer look and feel the material.