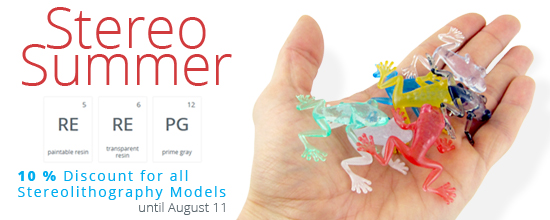 Stereo Summer Sale! 10% Discount on All Stereolithography Models until August 11th
by Yui Takahara | July 11, 2014
Are you all enjoying long-awaited summer holidays? If not, maybe you're already dreaming of what you'll do when you have some time off. With 3D Printing becoming more and more accessible to consumers, it's a great hobby to take up this summer. To get you even more motivated, we're kicking off our Stereo Summer Campaign today!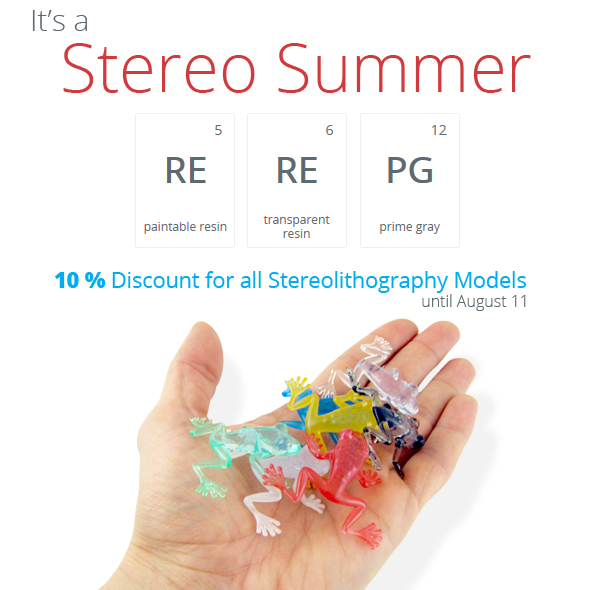 Campaign Period:
July 11 – August 11
Terms and Conditions:
Apply this promo code: StereoSummer_2014 when you order a Stereolithography model through our 3D print lab to receive a 10% discount.
A 10% discount will be applied to models ordered on the 3D print lab that are printed using Stereolithography and in the following materials:  paintable resin, transparent resin and prime gray.
Models 3D Printed with Stereolithography are mainly used as high-quality figurines or ornaments because of the very fine and smooth surface. If you opt to print in paintable resin or prime gray, you can also hand paint your model after it is 3D Printed. Here are some nice applications of these materials to inspire you!
Don't know which Stereolithography material is best for your design, or need technical assistance to 3D Print your items? Talking to our support engineers and other 3D Printing fans on our forum can help get you started. Have a great Stereo Summer everyone!