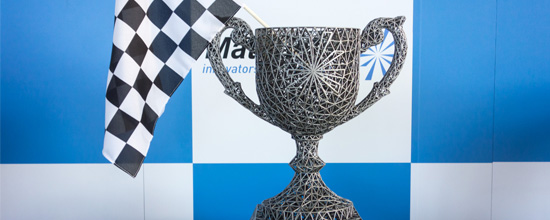 Ready, Set, GO! Slot Car Racing at Euromold 2014
The Materialise Slot Car Championship races over to Germany, a country that's known around the world for its car manufacturing industry, for one last contest. More specifically, we went to Frankfurt for EuroMold, the world's leading trade fair for design and application development, moldmaking and tooling. Over the course of 2014, Materialise organized a series of slot car races where participants could let their imagination run wild and 3D print their slot cars which they made with a whole range of Additive Manufacturing technologies. What better way to show visitors what's possible with 3D Printing than racing slot cars while enjoying a beer?
The afternoon of Euromold's opening day, Tuesday, November 25th, began with our participants warming up.
We had a 2 big screens with live captions so that everyone could follow the action.
Materialise CEO Fried Vancrean kicked off the event by racing a lightweight car printed in the flexible rubber-like material.
I had a great time meeting the racers and spectators and seeing some really great designs. One of my favorites was "The Textured Slot Car", which was born out of a cooperation between Materialise and Stratasys for the Objet Build Processor demo at EuroMold. They made a black-and-white and colored version on the Connex3 machine. With this multi-material 3D printer you can combine 3 basic resins to create 82 distinct materials. The 3D texture was designed in our very own 3-matic software. Also, the designers used Magics since it is the ideal toolbox to divide one part in different parts so you can assign different materials to the object. The colored Textured Slot Car joined the race and was greeted by supporters cheering it on in all languages, while racing the track at its highest speed.
Like we did at our previous races, we designed some trophies in our 3-maticSTL lightweight structures module and 3D printed them for the winners in every category. These awards were handed out by Materialise Executive Vice President Bart Van der Schueren during an award ceremony.
See highlights from the Slot Car race at EuroMold in our video below.
We had races throughout the world: Japan, Czech Republic, USA and Germany. But unfortunately, every story comes to an end and so do the Slot Car Championships. We hope you enjoyed the designing, racing, cheering and networking and we hope to see you again in 2015 for some more fun events! More pictures of the different slot cars and the event can be found on Facebook.
Recommended Articles
No related posts.