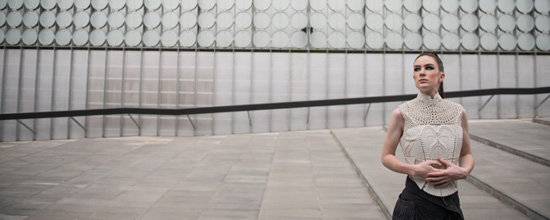 Singapore's First 3D Printing Festival
by Franky | January 23, 2014
Last December, we were a proud participant at Singapore's First 3D Printing Festival, an event hosted by Singapore's NTU School of Mechanical and Aerospace Engineering. Now, a small month into the New Year, we are happy to show you some of the event's highlights featuring many of our designers.
"Singapore's 3D printing festival shows 3D design clearly has a future ahead. The sky is almost the limit, and as you will see with these designs and with the fashion show, things are changing in the way we design and manufacture products."

Wim Michiels, General Manager Materialise Malaysia
The festival's most prominent part being an avant-garde fashion show, many fashion items from designers working with Materialise/i.materialise were put in the spotlights. Amongst others the fashion show featured 3D printed fashion pieces by Melinda Looi, the internationally acclaimed fashion designer. Just a few months ago, the Malaysian designer – together with Materialise – presented her collection during Asia's first 3D Print Fashion Show. Also seen on the runway were pieces by AmniosyA (i.materialise's designer of the year), Mark Bloomfield, mono circus, Kijin Shin and many other talented designers that participated and won in one of our previous fashion themed design challenges.
The top prize in the Wearable Fashion category went to Lim Kae Woei and Elena Low Lee Wei, from XYZ Workshop, a designer duo from Australia. Their design, inspired by the competition's theme of water technologies and sustainability, focused on the transience of water and its changing states.
Having done the 3D printing for many of the competing designs at the festival, it's great to give these designs an international audience on the runway. So don't hesitate to join one of our design challenges and who knows your design might be conquering the world next.