New Flat Rate Shipping — Simpler, More Transparent, and More Flexible
by Fabian | January 27, 2016
As of today, the pricing structure for shipping has changed. We're trying to provide you with simpler, more transparent, and more flexible solutions. While this means a cost decrease in many cases, some shipping rates have increased. Read on to learn what this means for you.
New Flat Rate Shipping: Simpler for Everyone
So far shipping rates have varied for each order, depending on the country, the value of the order, as well as the size & weight of the package. This made it hard for our customers and partners to anticipate shipping costs.
Based on the feedback we got from our customer survey, we are happy to announce that the pricing structure will be much simpler now. Shipping costs will only depend on which geographic region you live in. It's as simple as that. You can see the new shipping 'flat rates' in the table below.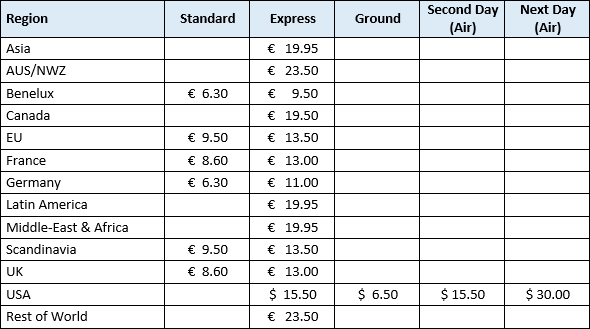 New Flat Rate Shipping: More Transparent Price Structure
This price structure is fairer and more transparent in many ways now. It will benefit several regions, especially those closer to our production facilities.
Let's take a look at some examples: Express shipping to Belgium, the Netherlands, and Luxembourg dropped from 9.50 EUR to 8.00 EUR, standard shipping to Germany decreased from 8.13 EUR to 6.30 EUR and to Scandinavia from 11.93 EUR to 9.50 EUR. Ground shipping to the USA will only cost you 6.50 USD now (average shipping costs to the States were 15.5 USD before).
New Shipping Options: More Flexible Solutions
We are also happy to announce that we added some often-requested options for more flexible shipping solutions. Users in Belgium, the Netherlands, Luxembourg, Germany, and France now have the possibility to choose the 'pick-up service' at our 3D printing factory in Leuven.
Users in the USA, Canada, Mexico, and most EU countries now also have the option to use UPS My Choice for their deliveries. This option enables you to fully control and manage when and where your packages will be delivered. You can simply reroute and reschedule them. Additionally, you can sign for a package online, authorizing the UPS driver to deliver your package even when you are not home. To learn more about this and open your UPS My Choice account, click here.
What Happens Next?
We're always looking for more and better shipping solutions that meet your needs. We can assure you that we are already working on ways of making deliveries faster and more convenient for you. We will always continue to try and keep our shipping prices as low as possible. That's why we would love to hear your feedback about our shipping options, at community@i.materialise.com.