RapidFit+ using 3D printing to check mass produced parts
by Joris | June 7, 2011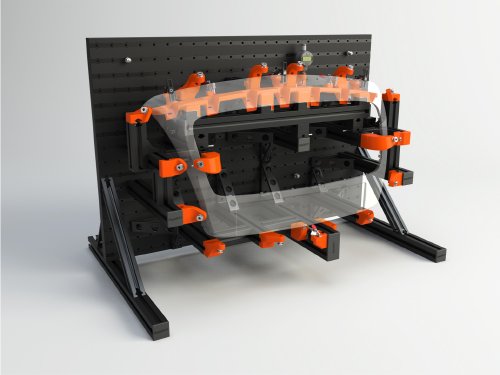 One of the things I completly did not understand before I came to work here was Rapid Fit+. Rapid Fit+ is a Materialise busines unit that sells fixtures that test mass produced parts. I simply had no idea that a market for this existed and that you could increase the accuracy of 3D printed parts to such a degree that you could measure mass produced things. I sat down with Jo Massoels the Business Director of RapidFit+ to understand what it is they do and how it works.
In the automotive world you have the OEM"s and Tier 1 and Tier 2 suppliers. An OEM is an Original Equipment Manufacturer, the car brand that sells the car such as BMW or Bentley (all Rapid Fit+ customers). A Tier 1 supplier is a company such as Rieter, Magna, Plastal  that sell directly to the OEMs (these are also Rapid Fit+ customers). Rieter for example is a company that might make all the fabric and textile parts in your car. Faurecia supplies entire plastic and seating systems. Magna supplies many things including chassis and bumpers. These Tier 1 suppliers might also produce an entire dashboard or even car interior. Tier 1 suppliers deal directly with the car manufacturers and supply them with complex assemblies that can be fitted directly into the final production vehicle.
A Tier 2 supplier supplies the Tier 1 with parts that go into their assemblies. They could make things such as air conditioning vents or other plastic parts. There are even Tier 3 suppliers that supply parts to the Tier 2"s. For this system to work there has to be a lot of trust and control throughout the supply chain that stretches to many companies and countries. To complicate matters, products are often sold "ex works", this means that the purchaser assumes the risks of transport and other associated risks with the part. If you"re a car company and want to produce high quality cars this warren of agreements and supplies becomes a big risk for you. If a Tier 3 screws up with an air conditioning vent that does not fit or is not the right quality it might delay the Tier 2 suppliers delivery of the entire dashboard of the car. Worse still, chances are the OEM will only find out about it once the part is supposed to be used in their assembly line and slotted into the final car. Stopping the line and or waiting for new parts to arrive  is immensely costly. Costlier still is a simple part malfunctioning for the car customer. This, especially for quality & premium car companies poses a risk to their brand as well as a possible huge financial cost. Recall is now a word that send shivers down many a spine.
To mitigate this risk car companies rely on extensive quality control mechanisms. One of these is the actual physical checking of parts to see if they are exactly the right size. Parts that arrive at the company are checked to see if they are precisely the right dimensions. Other parts are selectively taken off the assembly line to see if they conform to standards. Tier 1 & Tier 2 suppliers also do the same with parts that come in or leave their factories. Traditionally this checking has been done by rigs that are precisely constructed so that the part can "slot" into them. These rigs have until now been milled completely out of solid blocks of steel or aluminum using CNC. Especially for large parts this comes at a huge costs. Also, should any variations in the models be needed the entire rig has to be milled once again, this is a substantial delay and delays are costly.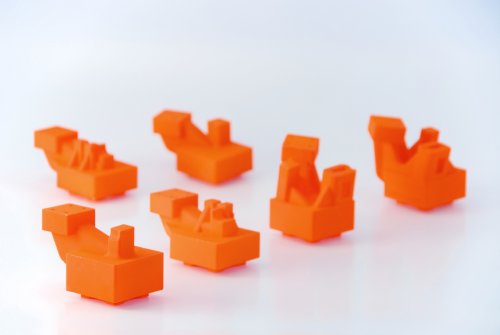 RapidFit+ started out when a few years ago Materialise bought a high end 3D scanning system to check the dimensional accuracy of the 3D printed parts we supply to car manufacturers. We also wanted to use the scanner to do our own quality control on other parts we produce to increase the overall accuracy of the 3D printing we do. When we produced a large part for a concept car or a final vehicle such as a bumper it proved very difficult to 3D scan because the part is flexible. We looked at purchasing traditional rigs and this proved to be ridiculously expensive.  Materialise then invented a modular rig to help improve our scanning accuracy. To manufacture this rig we turned to 3D printing.  The rigs worked very well and gave us a lot of data we could feed back into our production. They worked well enough to prompt the curiosity of some of our automotive partners. We saw that we could use these rigs not only for our internal tests of our accuracy but also to test the car manufacturer's parts. This lead to the birth of Rapid Fit+.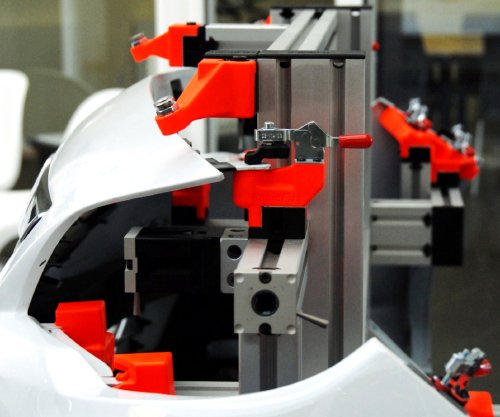 With RapidFit+ an OEM for example can use the RapidFit+ online platform to upload their 3D and engineering data to us. We will then do the engineering and work out a precise system of fixtures and a rig that can exactly check all of the dimensions of the part. At any time the manufacturer can log into the online platform and give their design approval or make edits to the parts.  The fixture is then produced and we 3D print precise locators. These locators are orange and you can see them in the images above and below. They are then positioned on the custom made fixture using 3D measurement techniques.  A person then checks each of the locators and their positions. The person can manually adjust the locators to get the optimal accuracy.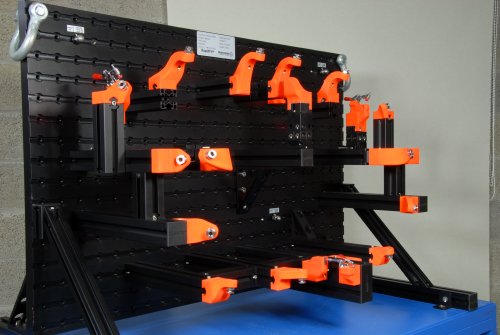 The final rig and locators are then certified by us and shipped to the manufacturer. They can then simply slot a new car part into the fixture to make sure it is exactly the right size. They could do this with each batch they get from the Tier 1 suppliers and also with a sampling of parts from their own production line. If any minor adjustments are made then we simply produce a new locator or they can send the entire bumper or dashboard to us and we will reengineer the entire rig and check it. For major adjustments to a car design we will produce an entirely new fixture for the car manufacturer. Because of 3D printing & a number of patents we hold in this area we can quickly produce the rigs and get them to the manufacturer at the right time. Because the quality control can only be done at the very end of the car design stage it is very time critical and our agility and the RapidFit+ system helps us deliver on time to the customer.  For now we"re very proud that car brands such as McLaren, Lamborghini, Ford, Audi & Mercedes Benz all use RapidFit+ and 3D printing to test the accuracy of their car parts and to make sure that you drive a better car.