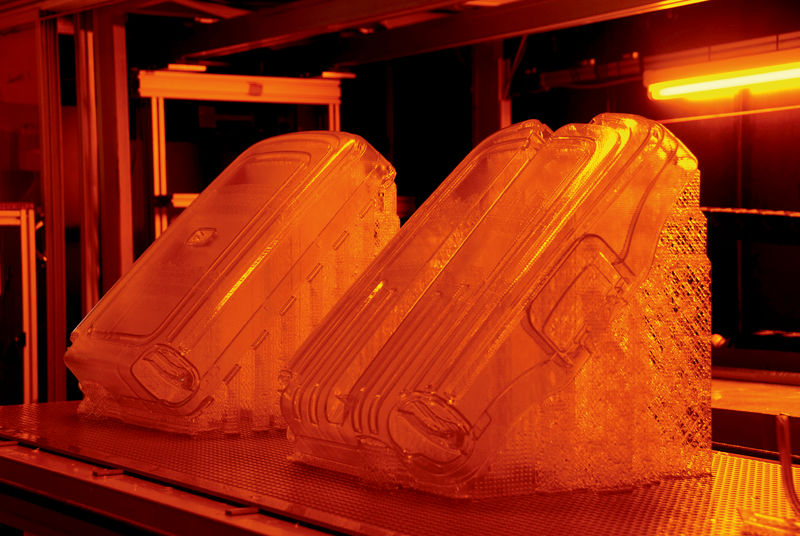 4 Ways Prototyping With 3D Printing Gets Businesses Back On Track
by Maddie | May 19, 2020
Returning to the office as lockdowns lift first and foremost means keeping your team healthy. Once a concrete safety plan is in place, the next step is to pick up where you left off and bring operations back up to speed. In this post, we're sharing how 3D printing can help you get product development back on track upon returning to the office.
Due to the coronavirus, changes to the way we worked were sudden. But thanks to the capabilities of rapid prototyping and 3D printing more broadly, your product development timeframe doesn't need to suffer. Here's how.
Short lead times
When it comes to product development, time is of the essence: especially if you've had to put design iterations on hold during the lockdown. Iteration rounds with traditionally manufactured prototypes are typically time-consuming processes, but this is not a case with AM.
Improving parts with 3D printing is quick and simple. Redesigning a part using traditional methods means recreating the mold to build an updated prototype from, which ultimately takes weeks or even months. Alternatively, in less than a day, those using AM can edit their original design file and send it off to be 3D printed. You can worry less about the time required to perfect a final design when data can be quickly updated and shared with manufacturers digitally. Once a file is sent, the prototype will be in your hands within days.
Cost-efficient models
One side effect of the coronavirus outbreak is the necessity for businesses to cut back on costs. The global economy has slowed, and many have faced the difficulties of decreased revenue. However, a lowered budget doesn't have to mean delaying company innovation.
3D printing enables innovation with its freedom of design. You can design parts with geometries and interlocking features that traditional manufacturing cannot ― an opportunity that often means optimizing parts to reduce costs. From hollowing to incorporating lattice structures, designers can create lightweight parts that save them 50% or more on part costs. Freedom of design delivers new possibilities that not only provide new ways to solve problems, but also save costs in a time when it's a common demand.
Wide offerings
i.materialise offers a wide variation of technologies and materials. From Multi Jet Fusion to Metal 3D Printing and Polyamide to Resin, there is the perfect combination of technology and material for every project.
An effective prototype is one that can give you an accurate idea of how the final product will perform. Whether that's reviewing the texture and color or putting the part up to rigorous testing, you need a prototype that's up to the task. 3D printing offers materials that are made to withstand taxing form, fit, and function tests so you can have full confidence in your final design.
Reliable online support
Services that you can be certain of in this time of uncertainty are crucial. The entire world is dealing with the impact of COVID-19, so we must support one another to bring back confidence in our economy. The coronavirus pandemic has also brought on the increased use of online services and abnormal working hours as employees juggle working from home with unanticipated responsibilities such as homeschooling.
Online support means quick and reliable assistance to ensure that you get the help you need. Our 24/7 online ordering platform provides flexible services so that as you return to work, and likely adjusting to an irregular schedule, the creation of designs can continue smoothly.
Get your business back on track with 3D printing today by uploading your design to i.materialise.
Subscribe to our newsletter to stay up-to-date with all things 3D printing.