Oxidized Brass & Stainless Steel Tarnish: How to Get an Antique Look
by Tatiana | May 23, 2014
Wondering how to achieve an amazing antique look on your steel & metal objects? We talked to jewelry designer Michael Mueller about how to get the perfect oxidized brass look and stainless steel tarnish style.
At i.materialise we love the antique look. Since we 3D print objects for our customers in more than 100 different materials, finishes, and color options, it's only logical that we would like to share some knowledge about how to get an amazing antique, tarnish style. We currently have a few materials that can give your designs that special finish.
The Perfect Materials: Brass & Steel
One of them is steel which gives your designs an older and somewhat rougher look if you go for the wheat penny, medieval pewter or old silver finish.

Another great material is brass. Gold plated brass is a great material to use if you like shiny surfaces, but to give your designs an older look, natural PU coated brass may be a better option for you.
The brass material is really great. The gold plated finish has a goldish look and if you are up to a less sparkling solution, 'natural brass PU coated' is a fantastic choice! Both materials have one thing in common: the PU coating. This means it's varnished with a transparent paint. This protects the design from scratches and oxidation, it also avoids people to have skin irritation.
– Michael Mueller
Getting More Contrast: Oxidation Can Be Positive
If you want your piece to look even more antique, you can remove the PU Coat (but be aware of skin irritation).
In my opinion oxidation is a good thing! Engraved areas become more dark which gives it more details and contrast.
– Michael Mueller
How to Make Bronze and Steel Look Old
To remove the PU coat, drop your item in a glass with acetone or nail varnish remover. After 30 minutes, most of the PU coat should be gone. You can remove the rest by scrubbing it with an old tooth brush. After the PU coat is removed your brass item will oxidize. Usually this takes a month.
To make this process faster, Michael recommends to do the following:
I tried different methods to age it faster. There are chemicals like 'liver of sulfur' which are used by goldsmiths to create a patina. You are getting great results but this chemicals are toxic and in some countries not easy to purchase. There are other ways to get the oxidation going. I like the following way best, cause it's really easy and gives great results: it's by using heat and oil. Follow the next steps:"
Turn on a hotplate of your stove and place your item there
After it gets hot, be careful and use tweezers to grab it and throw it in a small glass filled with olive oil. I guess every sort of oil will do the job.
That's it! Your item will oxidize at the moment it touches the oil. You can repeat this procedure till you are happy with the intensity of the patina.
After that, you can polish your design. This way it looks more natural and it will increase the contrast and the details. Natural patina looks green sometimes. By using oil, the oxidation is more black which may not look exactly like a patina which comes in ages.
Bonus: Antique Silver
Last but not least I'd like to take a moment to talk about antique silver. While shiny on the outside, recessed areas of this amazing finish are dark and un-smoothed. This look is achieved because your model with undergo an oxidation process. A sulfur mixture causes the silver to become duller and darker. The surface is then polished – and gets this shiny and smooth silver look. The cool thing about this: we do all the post-processing, you only need to upload your 3D file and choose thing material finish.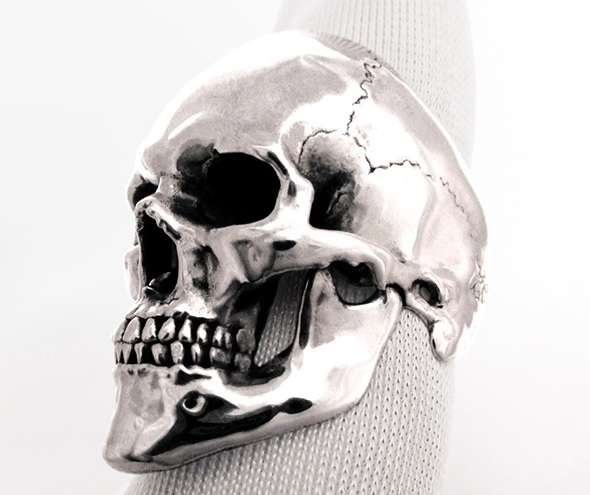 If you want to received your object in steel, brass, silver, or any other material, we can print it for you. All we need is your design as a 3D file. If you know how to create such a file, just upload it here and see the price for your 3D print instantly. If you're new to the world of 3D printing visit our creation corner to get started.