Newsflash: High detailed stainless steel (HS) has entered the building!
It's all in the details. With high detailed stainless steel (HS), you can go wild with your designs. We tested the materials for a few weeks now and it looks pretty stunning. You can situate the material between silver and titanium. It's pretty much as strong as titanium, but more shiny and mostly less expensive. Towards silver it's less shiny but stronger. So if you're looking for alternatives with a very high detailed standard: this could be the one!
For weeks we were (and are) excited to finally tell you the news and give you, as a designer, more -detailed- options. Wim, even did a test on rust: he put a high detailed stainless steel design in a bath with salt and no marks of rust are visible. We can't wait to discover what you'll design with this material!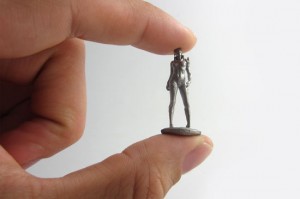 We're still waiting to put HS on our material page: we will let you try, play and test the material until the end of the year and see whether the material is worth to have its own place on our material page. We think the material can be used for board game pieces, miniatures, key chains or jewelry, but we can't wait to see what you come up with. We will finish the steel models with a mechanical polish. Outer surfaces get a shiny look, inner areas of your model and sunken areas will be harder to polish. Be sure your design doesn't exceed the bounding box: your model can have  40 x 40 x 35 mm as a maximum and need to be at least 3 x 3 x 3 mm, but the more models we can print, the more we will be able to adjust the bounding box. Details go from 0.3 mm and wall thickness goes from 1.0 mm. The dimensional accuracy of the material however is not as awesome as you can expect from Titanium. You can already check the details of the material and read the design guide!
So, what about pricing? Because we are still running in trial mode, there is a handlings cost per printed model and a cost per cubic cm bounding box. Here are a few examples to give you an indication of cost:
A model of 10 x 10 x 10 mm will cost you 18,2€ (excl. VAT)
A ring of 23 x 23 x 5 mm will cost you 35,31€ (excl. VAT)
The Aislin figure below of 15 x 15 x 35 mm will cost you 89,7€ (excl. VAT)
In short: Try it, feel it, design it! Any questions: contact@materialise.com
More pictures can be found on Flickr.