New Materials, New Finishes, New Website Functions – What We've Improved So Far This Year
by Fabian | May 1, 2015
Our main goal is to be the best 3D printing service for your needs: That's why we are constantly working on improving your experience on our site. This year we have worked a lot on new materials, new finishes, better production times, and new website functions. Come take a look at what has happened so far this year.
Antique Finish for Silver: Models printed in Antique Silver have very shiny and smooth outer surfaces, whereas recessed areas are darker with a rougher finish. This contrast leads to great results and a beautiful antique look. This means that you can now order a 3D print of your item in five different silver finishes here on i.materialise. Click here to see some examples.
New Color Option for Rubber-Like: Printing in flexible Rubber-Like material got even better: Now in addition to our existing dyed black option, you can order your 3D print in natural white here at i.materialise! Read on to take a closer look at this amazing material.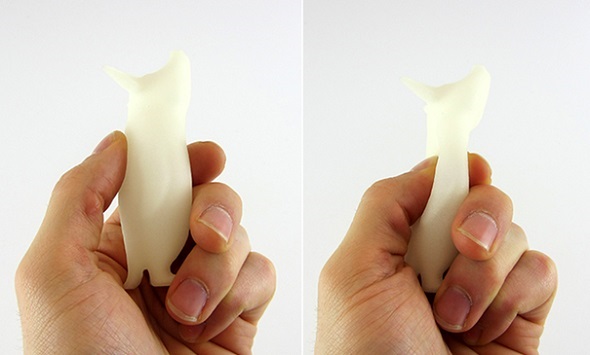 18K Gold: Good news for jewelry designers and gold enthusiasts! In addition to our existing 14K option, you can now 3D print in 18K Gold! All three shades (yellow gold, red gold, and white gold) are now available in both 14K and 18K Gold. Click here to learn more.

Better Production Times: Bronze, Stainless Steel, High-Detail Stainless Steel, and Gold now ship out of our 3D printing factory faster than ever. Our fastest Bronze lead-time is down to only 10 business days, and those for Stainless Steel and High-Detail Stainless Steel are down to 12 days. Click here for details about the new production times for Bronze, Stainless Steel and High-Detail Stainless Steel, and here for Gold.
Print Bigger in High-Detail Stainless Steel: We've been able to expand the build volume of High-Detail Stainless Steel by an extra 5 millimeters, allowing new maximum print volumes of 40 x 40 x 40 mm. Make sure to use it wisely!
More Supported File Formats: Our list of supported file formats been updated with several more extensions – as if there weren't enough of them already! Now you can upload your 3D models in 41 different file formats!
For instant online prices: .3ds .stl .igs .model .mxp .obj .wrl .3dm .fbx .matpart .zip .rar .7s .skp .dae .ply .magics .mgx .x3d .x3dv
For offline prices: .matAMX .amf .ndo .asc .cli .slc .mtt .mdck .cls .f&s .ssl .sli .jt .prj .sat .CATPart .CATProduct .dxf .zcp .prt .asm
Scale-to-Fit Button: Tiny models that are below the minimum print size limit can be scaled to fit with just a single click after your upload. Simply click on "scale-to-fit" to get the minimum printable size of your object.

Previously Uploaded Files: If you're logged in and upload 3D models, we automatically store them for you in your profile. They'll be stored for at least 30 days, so you can easily add them to your cart even days later, without needing to re-upload anything. This saves time and comes especially in handy when dealing with large files. It also helps when ordering the same model in several different materials or finishes.

Ongoing Promotions: Besides our never-ending efforts to improve your experience on our site, we want to remind you of our two ongoing promotions: We offer free worldwide shipping on every order above 129 USD or 99 EUR. This shipping promotion is valid all year long – no promo code is required. On top of this we offer a 10% discount for students: Click here for more info.
Once again, we would like to thank you for your trust and loyalty. The year is still young and we're already working hard on further improvements! In the meantime, don't hesitate to contact us via our forum or by tagging @imaterialise on Twitter.