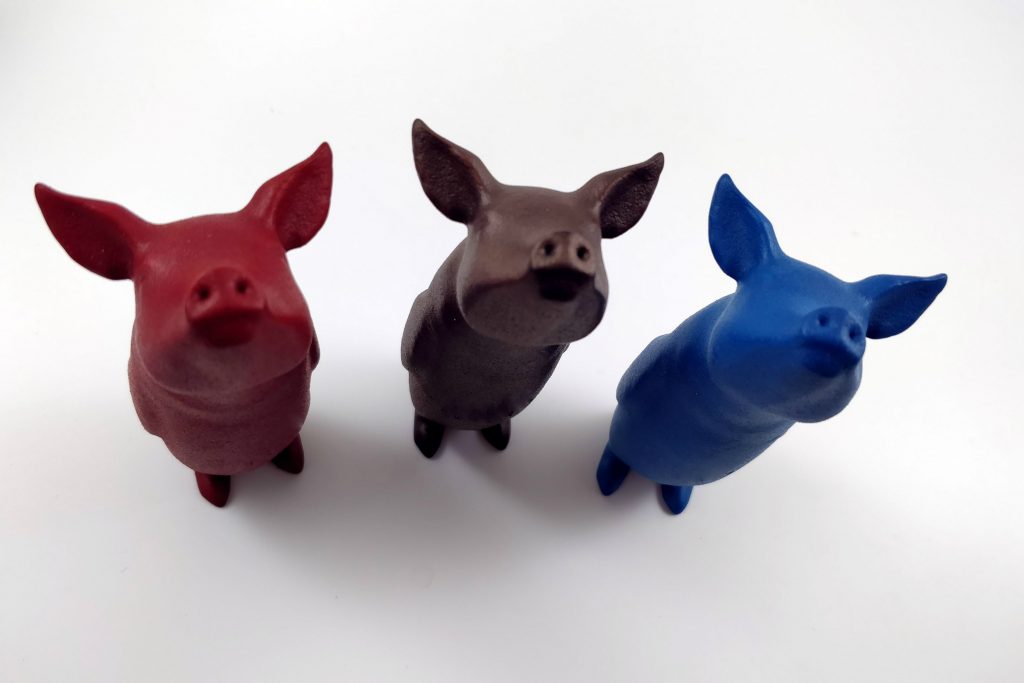 Discover Three New Colors for Your 3D Prints in Polyamide (SLS)
All good things come in threes and today we are happy to introduce three new stunning colors for your polyamide prints: Bordeaux, Petrol Blue and Brown.
Recently, we presented some new finishes for polyamide: improved polished, satin and waterproof. But we wanted to offer you an even bigger selection for your polyamide 3D designs. So by popular demand, you'll be able to get your models in these brand new colors from now on. Beautiful, aren't they?
More information about the new colors for Polyamide (SLS)
Elegant and vibrant is how we see our new polyamide pigment. This color takes its name from the French wine region of Bordeaux because it resembles the color of the wine.
Another name for bordeaux is claret, which is also a variety of wine. Don't confuse it with burgundy, also a color inspired by wine, but slightly darker than bordeaux.
We already offer one acclaimed blue for polyamide, and now we want to add another shade: Petrol Blue. This color, made of greyish blue with some green, is in full trend nowadays and is common to see in decorative items, clothes or eyewear.
Some people think that the name of this color is a misspelling of petrel blue that refers to the seabird. In reality, this name comes from the color of petrol-derived compounds such as paraffin, which is often a deep blue color.
Last but not least, we have also added brown to our choice of polyamide colors. Brown is a serious and down-to-earth color that radiates security, protection and comfort, symbolizing nature and everything organic. Brown reminds us of falling leaves and hot chocolate. Perfect for this time of year!
A broader palette for your 3D designs
These new colors have been added to the wide existing selection of colors that we already offer for your 3D prints in Polyamide SLS.
Yellow
Orange
Red
Green
Blue
Purple
Black
As the perfect finish for your 3D-printed polyamide models, we recommend our new improved polished finish for a shinier look and a smooth feel. The new colors are also available with stain and dyed finish. And with these new colors, we now offer up to 43 different finishes for your polyamide prints!
Which is your favorite new color? What would you print in our new colors for Polyamide (SLS)?Once your 3D model in our new colors is ready to print, you can easily upload it on our platform to order.
Get inspired with these stunning 3D-printed designs in polyamide and discover how this versatile material for 3D printing works.