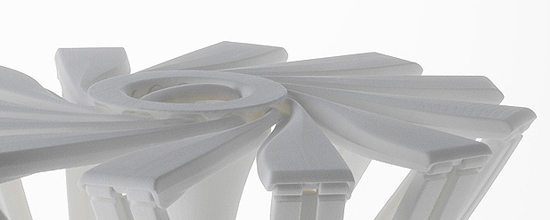 .MGX Boutique's Designer Patrick Jouin's Work on Display at Stedelijk Museum, Amsterdam
by Billy | October 17, 2014
Are you planning a trip to Amsterdam between October 25, 2014 and February 15th, 2015? Be sure to stop by the Stedelijk Museum to see the One_Shot.MGX stool and the Solid C2 chair by Patrick Jouin on display next to other forward-thinking designs in the "Superbox. Design Acquisitions." exhibition. 
"The One_Shot.MGX is a foldable stool which is manufactured by selective laser sintering as one complete piece; the stool emerges from the machine in its final form, complete with hinges that are concealed by the graceful structure of the stool itself. By virtue of gravity combined with a simple twist, an array of rods transforms, in one flowing movement, into a small, useful, strong seat."

.MGX by Materialise
If you aren't able to make it to Amsterdam, you may find the stool at a museum near* you such as the Victoria & Albert Museum in London, the Museum of Modern Art (MoMA) in New York, or Design Hub Barcelona.
Like what you see? You may be interested to know that Patrick Jouin's Bloom is available in the .MGX Boutique section of our website.
Inspired by both the aforementioned One_Shot.MGX stool and flower blossoms found in nature, this table lamp features a shade which collapses and expands to release or contain light. As with the One_Shot.MGX, the shade is 3D printed as a single piece, including hinges that in one movement, transform the shade from a bud to a blossom. And with the complexity of its design, the Bloom lamp succeeds in pushing even further the boundaries of 3D technologies.
For more award winning 3d printed designs, pay a visit to the .MGX Boutique. It features a unique selection of lamps and accessories that does more than light up a room or furnish a house. These products create mood and bring magic to any setting. Weaving together traditional and modern craftsmanship, each piece is individually drawn, and created by laser beam and carefully finished by hand.
*Intricate pieces of the .MGX collection can be found in the following museums: