Meet the (train) designer: Ed de Bruijn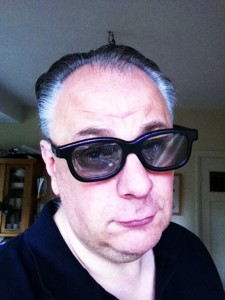 There are so many beautiful scaled train and tram models in our gallery that we couldn't wait any longer to put them on the blog. Meet one of the specialists: Ed de Bruijn.
Where did you grow up?
« I grew up near and in Haarlem, the Netherlands. I had a relaxed childhood being the youngest of 5 children. In 1986 I met my wife and we got married in 1994. In 1999 we moved to Bussum, where we still live. We have two kids, Ewout (16) and Rozemarijn (12).»
What do you do in your everyday life?
« I used to be an Interim Manager, but unfortunately the crisis hit hard so I tried to find a new way of living. I've been building train models for many years and people were always very enthusiastic about my design skills. They asked me so many times to build them a model too, but there was a big problem: I used to build in metal (brass) and the number of hours to get the result was too big. The price of the model would become enormous so luckily I heard about 3D printing! Now I can order the number of products I need. The quality is always the same and the detailing is great. Today I'm building train models in large scale (1:22,5).»
« I've got a bachelors degree in engineering, so translating drawings and pictures into 3D models is not new. Actually: the essay I wrote for my bachelors degree was about the first 3D drawing computer software available on the Market. We're talking about 1984…»
Why scaled train models?
« It all started when I was very young. On my 5th birthday I got a train set from my uncle and since than I have always had trains surrounding me. Luckily my wife approves this madness, we had a train running around on our wedding day with small gifts for the guests.»
What kind of models do you design?
« The models I develop are all based on original, but very unique, trains. An example is the model of the London Underground that I've built in the past. Since 2006 I only develop and build in G-scale, 1 to 22.5. The models I build are models of railway companies that are based in the Alpes. The Swiss Rhaetien Railroad (RhB), running in the Kanton of Graubunden is my favourite, but also the Matterhorn Gottard Bahn or the Zentral Bahn are very interesting.»
Where do you get you inspiration from?
« I read books where I've already found some really original models and do research on the internet to find more pictures.  Then I try to see if  and how all the separate parts can be built. If, for example, a train has windows that have been put in afterwards it is almost impossible to create these windows in a model. Swiss trains have the glass between the outside and the inside which is very easy to design. Once I know how to design it I start with the actual drawing in SolidWorks.»
What materials do you use?
« The material I use is polyamide. I find the price very reasonable and the level of detail good for scaled models. It's perfect to drill some additional holes or sand the model afterwards.»

How difficult is it to design these models?
« The first thing I do is to make drawings.  After about 10 hours of drawing I mostly have a rough model. This model can be 2D printed to compare with original sketches and pictures for a general look and feel. I show these designs to some people I work with and in most cases there are some remarks that improve the model.»
« In the second stage I try to refine the various parts. Details are added like headlights, interior details, etc… This process continues for several days. I also start uploading some main parts in the i.materialise 3D Print lab to get an impression of the pricing. »
« This process of refining continues for a few weeks. As soon as the first parts arrive I check their look and feel. During that time I also share my work on blog sites. The reactions will help me in the rest of the process.»
The scaled models of Ed de Bruijn can be found on his personal or company website.
 Do you want to  share you story with the community? tatiana.dewee@materialise.be