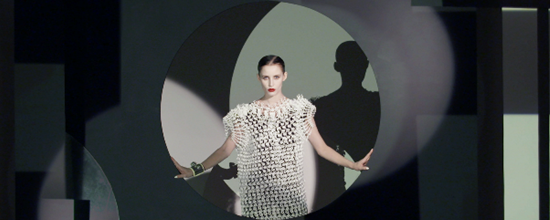 Kaat Debo, Alexandra Verschueren, And Tobias Klein Make 3D Printing Crystal Clear
Fresh off the printer, the "Incunabula" is the latest dress 3D printed by Materialise as part of the "1914 Now: Four Perspectives on Fashion Curation" installation. Following Rem Koolhaas's Venice Architecture Biennale "Absorbing Modernity: 1914 — 2014", four curators were asked to respond to the exhibition with a fashion piece and film installation. Their results challenge modern-day concepts and push us to rethink contemporary fashion.
Kaat Debo, Director of ModeMuseum Antwerp, was one of the curators asked to participate in the project. As the director of a museum focusing on contemporary fashion, pushing the boundaries of technology, and actively trying to impact the discourse of fashion, Kaat brings a fresh perspective to the way we perceive fashion from 1914. Kaat envisioned a garment that represents the tension between the "desire for ornament and the search for the modern". Finding inspiration in Irish crocheted lace, a popular trend in the 19th century, she came to Materialise to 3D print the dress to satisfy her need for the modern. She found that her vision aligned well with designer Alexandra Verschueren and artist/architect Tobias Klein.
After the dress was meticulously designed and 3D printed (more specifically, selective laser sintered) in polyamide, Tobias Klein then grew crystals on the garment to further add to the idea of ornamentation and the poetics of modernity on top of the 3D-printed dress, a desire for the new. That is why Kaat says it best when she describes the dress as a "post-natural distortion that finds balance through technology and craftsmanship".
What do you think about the "Incunabula" dress? Is there any other 3D-printed product that you would like to read about on our blog? Let us know in the comment section below.
Recommended Articles