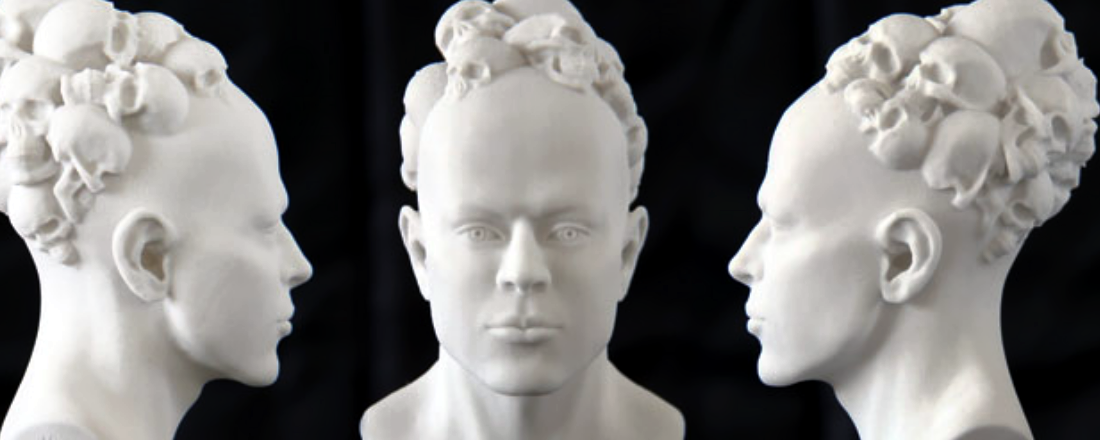 Jacqueline Baselier Shares Her Tips and Advice for Molding a Realistic and Asymmetrical 3D Printed Sculpture
by Darya | August 12, 2014
Dutch artist, sculptor, and special effects make-up artist Jacqueline Baselier is on a tireless search for new tools capable of creating fine art. She experiments with various techniques, which increasingly include 3D printing. 
As a fine art and design teacher for Kellebeek College, Jacqueline Baselier has been hard at work on a special project: the implementation of 3D Printing in vocational education.
Read on for some of the digital sculpting tips and tricks she shares with students!
Jacqueline Baselier works readily with 3D printing technology. Its appeal is readily apparent to artists in her line of work: 3D printing offers a wide range of materials, freedom of design, and the ability to concentrate on ideas rather than on manual work.
"I make my 3D design on a Wacom Cintiq in ZBrush. I have been using the program for a year and a half now, and I like it very much. For me, it works a lot like sculpting in clay. I always tell my special effects make-up students when they are interested in digital sculpting to start with programs like  123D Creature  on the iPad before you buy a program like  ZBrush. For me, 123D Creature is like a sketchbook."
Jacqueline has 3D Printed several of her digital design files, and finds the high-detail results of these prints impressive. Among her most acclaimed 3D designs is "Calmness of Mind," a realistic 3D bust of a human face covered in skulls.  It was made for the LekArt exhibition that is taking place in September 2014 in Culemborg, the Netherlands. The theme for this year is "Man in Motion."
"The intense, quiet strength that some people have when they face their fears fascinates me. The control of movement comes from the brain. I approached motion from that perspective, the spirit, the mind and motivation. Movement can also be interpreted as progress, development. It is all about the way you live your life."
Jacqueline recorded the entire design process for "Calmness of Mind" and compiled it into this video. She starts with a simple sphere, and digitally transofrms it into a realistic, surreal sculpture.
This model was printed in two different materials. A larger model – 31 cm high – was printed in mammoth resin, which can easily be sanded and modified after printing. Jacqueline chose to paint the model in white for a classic look, to better match the traditionally handmade pieces that will be on display at the LekArt exhibition in September.
A second smaller model, with a height of 16 cm, was printed in gray using multicolor material. This material provides nice vivid colors, so the model will stay without any post-finishing.
Jacqueline is very interested in classical busts – for example, the works by Gian Lorenzo Bernini or Franz Xaver Messerschmidt – as well as contemporary techniques, which served as an inspiration for this work.
"I hope I inspire other people to make special things of their own. It is so much fun making these sculptures!"
Has Jacqueline's art inspired you? Share your own designs in the comments below!