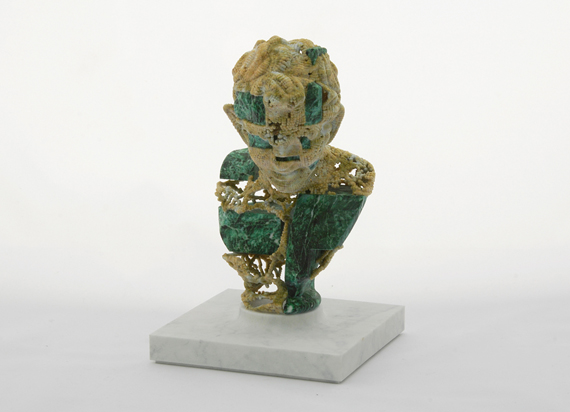 Isaie Bloch wins the 'Artist of the Year Award' at the 3D Printshow with his i.materialise design!
by Tatiana | November 9, 2013
Isaie Bloch has won the 'Artist of the Year Award' at the 3D Printshow in London. Take a look at his work 'Satire' he sells under the name Eragatory.
Other nominees we're Joshua Harker, Matthew Plummer Fernandez, Nick Ervinck and Sophie Kahn and Tobias Klein. Isaie Bloch was very surprised but satisfied he won the award: "This is really giving me a boost and I'm really happy i.materialise was able to 3D print this design for me." To check one of his jewelry designs, you can come to our booth (number 28) at the 3D Printshow!
About his work: "There is a long tradition of artists making works "after" the works of their forebearers. Although utilising advanced, technological tools (e.g. 3D software / 3D printing), I am, in a way, working within that great tradition. I do not feel, however, that this project owes much to 'appropriation' and those contemporary artists whose works have been labeled as such. I am searching for a way to make something equally revolutionary. I have set for myself the task of creating a new sculpture that is 'technically unachievable by artisanal methods' and 'more perfect' than the original Grecian Satyr bust – an icon of Roman and Greek sculpting."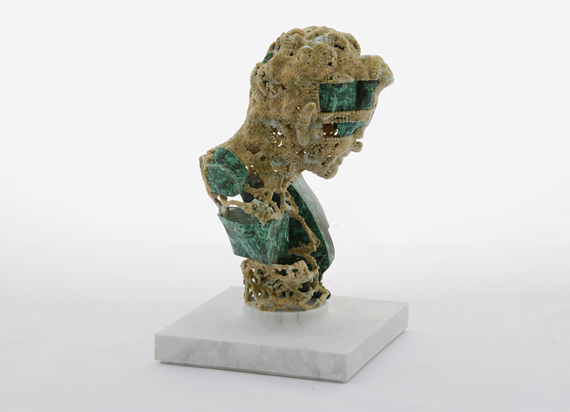 "The substantial additions I have effected on my work has made mine a true sculpture-in-the-round, as it portraits geometric complexity using several different materials, without interfering with the 'purity' of the sculpture.
This work is not a frontal portrait intended for placement in niches or against walls. In many cases, pieces of this kind are crudely attached to an unfortunate, too-large, too-heavy stone or wood base and displayed against walls. This pedestal is more refined and I believe, presents my sculpture far more elegantly.
It permits my work to be seen from all sides – like a beautiful piece of furniture."