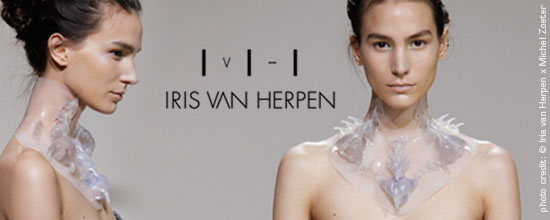 Iris van Herpen presents her Wilderness Embodied Collection
by Franky | July 9, 2013
Last week, Iris van Herpen unveiled her Wilderness Embodied Collection to great acclaim in the impressive entry hall of the Palais de la Découverte in Paris. As the show was held in a building which celebrates scientific progress of all kinds, it is fitting that the Dutch designer yet again explored new terrain in 3D printing by creating her very first hybrid dress.
With this dress, she has proved that 3D printing doesn't have to be a choice of "all or nothing" when it comes to design. Instead, technology can serve as a beautiful and functional part of the whole, adding value to traditional craftsmanship.
The dress was created by bringing together transparent resin pieces (stereolithography) and more hands-on craftsmanship, for an unworldly result. The transparent pieces were then over-molded in silicon by Iris van Herpen's team, a process that demands great skill and which took weeks to complete.
Speaking about the latest collection Sven Hermans, Account Manager for Materialise said: "For the first time we have worked with Iris van Herpen to produce a hybrid creation incorporating unique, transparent bone-like structures produced with Mammoth Stereolithography. Thanks to 3D printing the dresses are seamless and made to measure. It is exciting working with Iris van Herpen to bring her complex geometrical designs to life; 3D printing does what no other form of clothing manufacture can do when complex shapes need to be created quickly and as one piece."