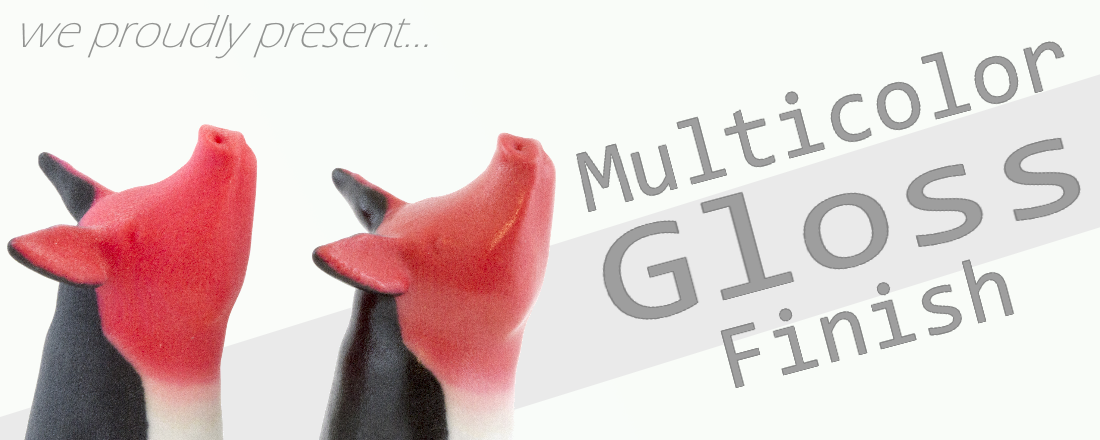 Introducing Our New Multicolor Gloss Material!
Good news for fans of multicolor, that sturdy sandstone material that comes out of the printer in vibrant colors!
This material is now available in a glossy, bright new finish that gives your print a smoother, more polished look. It can intensify dark or vibrant colors, diminish the appearance of print lines, and photograph in a similar way to cold-cast polymer resin.
Read on for details.
Multicolor is now available in:
Color Matt.
Color Gloss
Monochrome Matt
Monochrome Gloss.
This new Gloss finish can enhance colors, which is especially evident with dark hues. Black looks blacker, midnight blue looks bluer, and reds are as vibrant as ever! And browns? We feel they're more organic and "woodsy" in this finish.
This finish is also available in the shop for older items.
Print lines may also appear less visible in this material, giving your multicolor print a smoother look and feel.
Although this coating is smooth, it is not "shiny." We took care to preserve a trait our designers like about our matte multicolor: its organic, stone-like texture. Gloss is smooth in the way that lightly polished stones are, so it does not have a "cheap plastic toy" gleam.
Despite its delicate looks, this material is resistant to chipping, solidly weighed, and rock-hard to the touch. It is also odorless, and won't warp or "squish" when squeezed firmly with both hands. To maintain your model's surface and colors, keep it away from water or moisture.
Multicolor gloss is a good material for 3D printed figurines, stylized 3D "cartoon character" prints, architectural models, and other indoor display items. Since this material prints out in color, you can customize your model's "paint job" directly on the computer. Paint your model in art software like Gimp (free) or Photoshop (not free, but here is the free trial link) and upload a photo as a texture. The model will print out in color, and does not have to be hand-painted.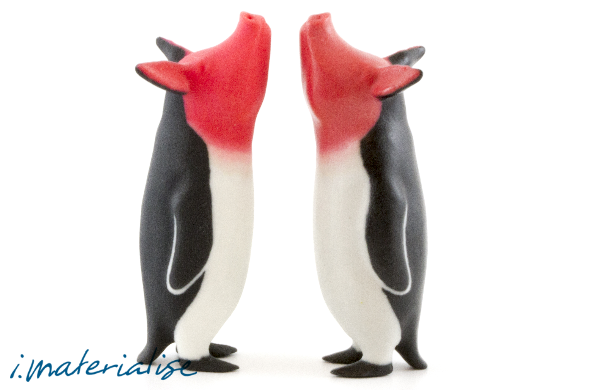 Just because the prints come out of the printer with color does not mean you can't add hand-painted details! Multicolor gloss still has a very slight texture to it, which provides a great surface for paint and base coats. Adding hand-painted details alongside computer-printed ones can create a stunning and surreal work of handmade 3D-printed art.
Which designs do you want to see in our new Multicolor Gloss finish?