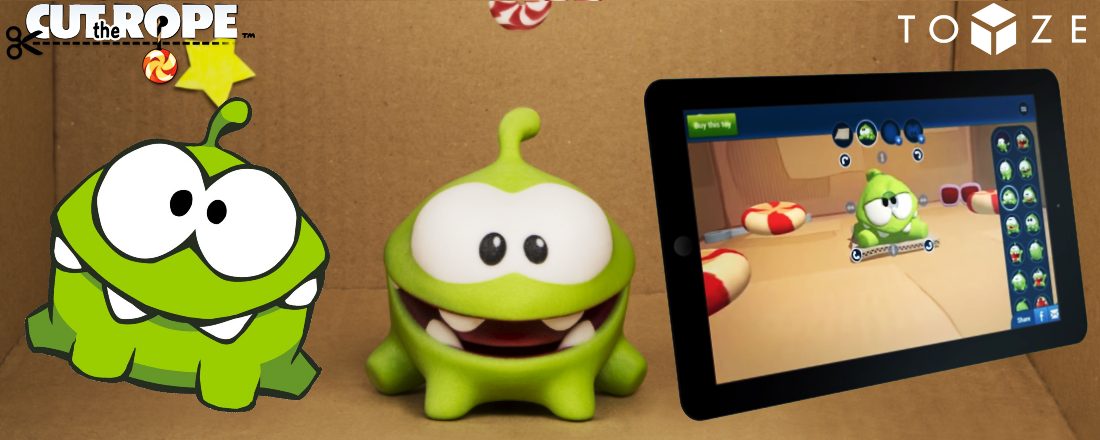 In Less Than a Year, 3D Print Start-Up Toyze Secured a Major Client and Reached Over 100 Million Users: Toyze Explains Its Ambitious Growth Plan
Om Nom, Toss, Roto, Boo, Blue and Lick are mobile game characters with millions of fans around the world— and the start of an adventure for one 3D print business.
Toyze is an app where users can create, customize, and order 3D printed figurines of popular mobile game characters (including the cast of Zeptolab's beloved Cut the Rope series.)
The app has already garnered praise by major publications such as VentureBeat, 3Dprint.com, and Yahoo Finance. How'd they do all that in under a year? Read on.

At a glance, Toyze has a fully developped interface. It features characters from best-selling iPhone and Google app store games, such as Om Nom from the "Cut the Rope" series. Users select a game character, dress them, pose them, and generally interact with it in 3D. They can then can share their designs through social media or e-mail. Most importantly, users can print and purchase their custom character  from inside the app– no programming or CAD design skills needed.
The appeal of designing and printing custom figurines is apparent, but it took more than appeal to make Toyze succeed.
Founded by Vilius Rinkūnas and five of his closest associates less than one year ago, this ambitious start-up boasts seed funding from Ilja Laurs, founder of GetJar. Getjar is the biggest independent appstore in the world, and boasts over 2,370,554,782 downloads. He is a man of experience and conviction— and a man on a mission.
"Our plan is to eventually feature all video and computer game characters – and then go beyond that to comics and movie characters." Laurs explains, with trademark enthusiasm.
With Laurs's experienced guidance, Toyze is positioning itself to expand into traditional video and computer game characters, which offers gamers an alternative to expensive hand-cast figurines.
This long-term planning, coupled with months of hard work, quickly attracted the interest of a major client: Zeptolab.
"We produce figurines for Zeptolab, and they're our investor and launch partner. We feel honored by the trust they put in us and feel excited about the opportunities ahead." Laurs remarks, noting that Toyze sets high standards for its designer figurines.
By working with i.materialise and its parent company, Materialise, they developed the user-friendly 3D printing interface, production, and shipping method perfect for their budget.
Toyze figurines are made from a smooth, durable 3D printed material that is exclusive to i.materialise. The material prints in color, and photographs similarly to hard silicone and some types of cold-cast polymer resin. In layman's terms, it will not look like a cheap shiny toy in photographs or perched on your desk.
This custom material does not have some of the issues found in traditional mass-produced figurines: it is odorless, relatively resistant to chipping, solidly weighted, and hard enough not to warp when squeezed firmly with both hands. The light glossy feel allows 3D printed figurines to display well alongside traditional mass-produced resin, ABS plastic, porcelain, or vinyl figurines.
Since this material prints out in color, Toyze users can customise their model's "paint job" with just a few clicks (instead of paying someone to paint the figure.) Printing paint directly onto the model also allows for a more uniform, symmetrical paint quality.
Toyze's production-ready status and solid app interface allowed it to stand out from competing apps, and forged a strong connection with Zeptolab.
The Apple Design- and Forbes- Award-winning mobile game producer collaborated with Toyze to fill an unusual demand coming from their 250 million users. All over the world, users expressed the desire to physically "hold" Om Nom, the cuddly and ever-hungry lead character of their best-selling Cut the Rope mobile game series. Zeptolab sought out a creative solution.
Products such as stuffed animals and premade plastic toys did not offer the personalization and customization older users looked for. Adult and teen gamers wanted something more advanced– they wanted a quality, personalized product they had a role in creating.
Toyze rose to the occasion: they had the technical ability and reliability needed to provide the digital-meets-physical experience Zeptolab was looking for.
"It was important to us that users could touch and interact with a character as they dressed and customized it. That's one of the biggest reasons people order these figurines through us… touching and customizing establishes a connection." Vilius Rinkūnas explains, pausing thoughtfully.
Their technical expert and engineer, Pavel Laurs proudly adds:
"Our programming team focused on making Toyze reliable and easy to use. Our app is very easy-to-use and responsive to user input, so it functions just as well on a tiny smartphone as it does on a large tablet. We make full use of the touch screen."