DMLS: 3D Printing in Titanium Possible with i.materialise
by Joris | January 18, 2011
Direct Metal Laser Sintering – or DMLS for short – is a game changer when to comes to direct 3D printing of metals. We're proud to announce that as of today everyone can use our online 3D printing service for printing your design in titanium – yes, 3D printed titanium! Read on to learn more about DMLS printers, the DMLS technology, and our DMLS titanium.
Titanium Direct Metal Laser Sintering (DMLS)
The ultra high end 3D printing process of DMLS (Direct Metal Laser Sintering) is one of the world's newest and most advanced manufacturing technologies and is now in the hands of consumers, inventors, and designers like you. Before we dive into explaining the technology and DMLS printers we use, let's take a look at some stunning 3D printed titanium pieces.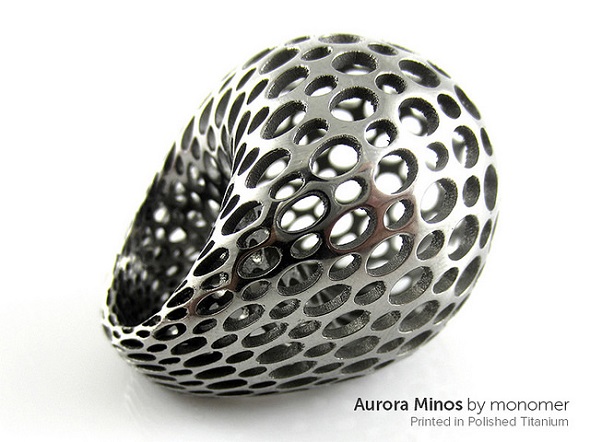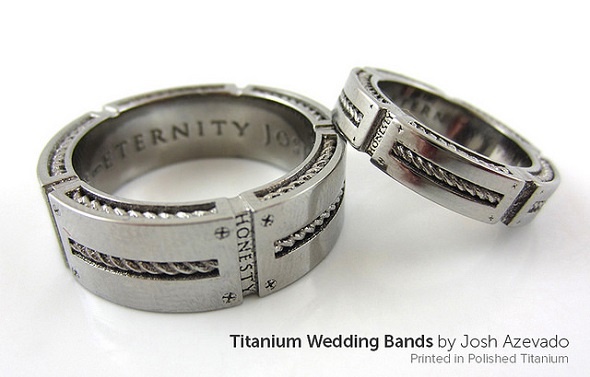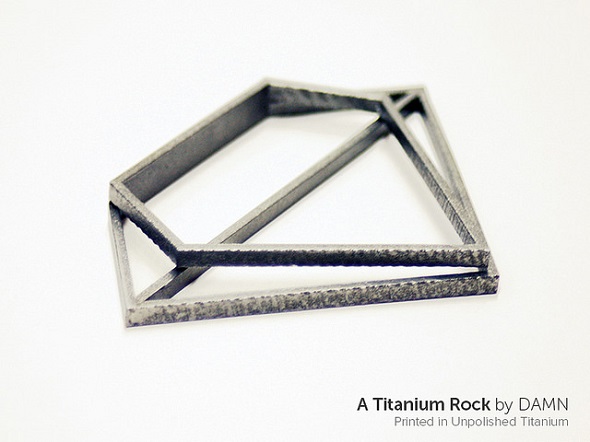 How Does DMLS Printing Work?
The titanium 3D printing process in DMLS works as follows:
A thin bed of titanium powder is laid down in the 3D printer.
This layer is then sintered by a very powerful laser and will become the bottom layer of your part.
A new layer of powder is applied and the process repeats itself.
Your part is taken out of the 3D printer and any loose unsintered powder is removed.
In most cases your part will have support structures 3D printed on and around it out of titanium.
These supports have to be removed manually using very powerful circular saws and other tools.
Once the supports have been removed manual polishing is required to remove evidence of the supports.
Then a post finishing step may be required such as polishing the entire part.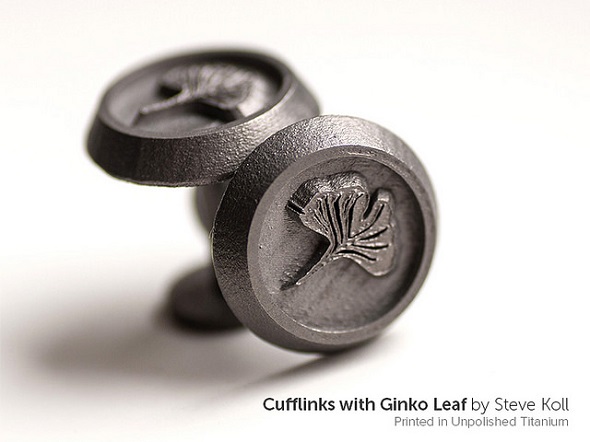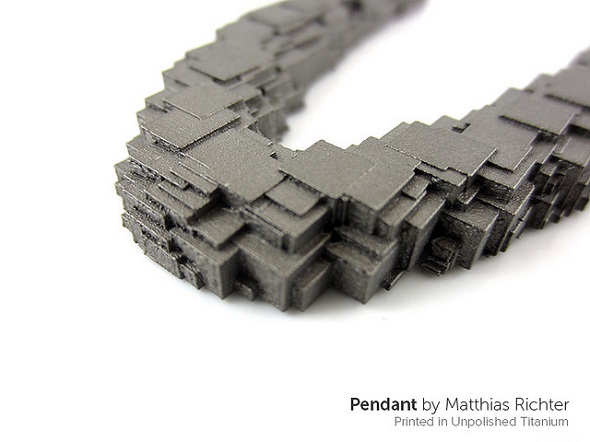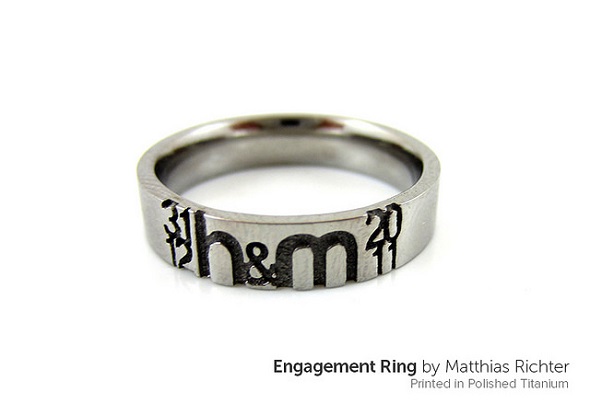 Pricing: How much does a Titanium DMLS Print Cost?
A Standard part 2 by 2 by 4 cm with a volume of 1 cubic centimeter would be 93 EUR ($124). A part with the same bounding box and 4 cubic centimeters of volume is 144 EUR ($192).
If you're looking for a cheaper alternative of 3D printed metal, our 3D printed steel option might just be what you're searching for.
Get Your DMLS Titanium Print Online
We're overjoyed that we're the world's first 3D printing service to let consumers order titanium 3D prints. Titanium 3D printing opens up an entirely new world of advanced engineering, manufacturing and jewelry applications for creative people worldwide. Titanium's high heat resistance, high accuracy and unparalleled strength lets designers now make things that before now could only be made by the research and development departments of only the largest corporations in the world. By putting this technology in the public's hands were democratizing manufacturing and giving you the opportunity to, design and order something this is exactly as you want it to be.
At i.materialise we're committed to letting you make the future. We want to work with designers, software developers and inventors to give you the tools you need to design and produce anything you want, exactly as you would like it. Things made by you to fit you better, to express you better, to work better, to look better, to be better. Things made better for an audience of one, you. We want to slowly but surely push back mass manufacturing and replace it with individualized manufacturing. Titanium 3D printing is a step in the right direction, many more will follow. We will be updating this blog with new developments in 3D printing titanium and other advances in 3D printing technology.
If you would like to upload a design for titanium you can do so here. We've made another blog post outlining the technical specifications, pricing and a dose of truthiness about the process for those of you who want to delve deeper into 3D printing titanium. Also make sure to browse our list of 18 different 3D printing materials to find out which one is most suitable for your project.