i.materialise at TEDxKids 3D printing for ten year olds
by Joris | June 6, 2011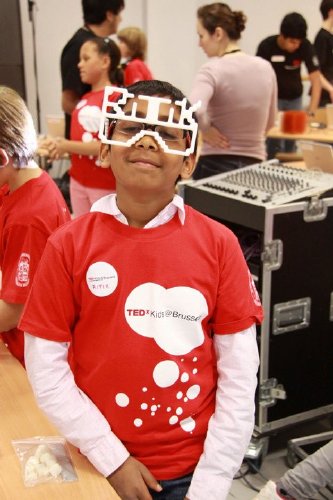 On June 1st i.materialise participated at TedxKids Brussels. This event brought together people as diverse as Walter Bender (of Sugar Labs), Maarten Lens Fitzgerald (the Founder of Layar), Mark Frauenfelder (Editor of Make Magazine and Boing Boing), Mark Surman (of the Mozilla Foudation), Gever Tully (of the impecably awesome Tinkering School), the great team of Technology Will Save Us and more inspiring and wonderful people. Also in the mix were Franky and I on behalf of i.materialise. One part of the day was to give a TED style presentation to a group of 450 adults.  
The "TED style presentation" was daunting enough. I mean you"re standing on the same red dot as that mind blowing guy with the windmills. At the same time it does not help that all the other speakers have clearly done this kind of thing before and that everything is being recorded and simulcast. All I wanted was one crappy speaker so that I"d look good. Alas, the presentations were all informative and very well done.  But,  the truly terrifying thing about TEDxKids was the kids. You see, the real object of TEDxKids was to teach a group of 56 ten year olds how to be makers(Initially there were going to be 48 children but rumor has it that Vladimir Putin intervened to include some of his children at the last moment). The kids were going to have a day of workshops where they"d learn to solder, make a chair, work with software, DJ and 3D print of course.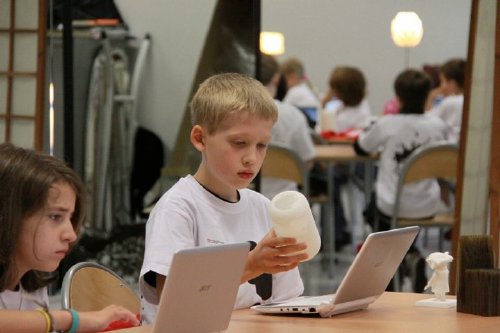 The problem is that, the last time I had a sustained conversation with a ten year old was 11 years ago. It was very difficult for us to gauge their level of understanding of the concepts we would explain and show them. We decided to do a workshop where we"d explain 3D printing, let the kids touch and play with a lot of 3D printed things and then let them do several demonstrations to explain to the class how 3D printing works. At the end of the presentation Franky would go into  3Dtin and the kids could then 3D model something that we"d 3D print. 3Dtin lets anyone 3D model. We did tests beforehand including asking the kids to play around with 3Dtin and we knew that the kids could use it well. We also brought a full minivan worth of 3D printed things. This let use some great demonstration pieces showing the kids what was possible with 3D printing and how it works. More importantly it let us put several 3D printed things on each of the kids desks so they could touch and play with them during the workshop. We thought this would not only let some learn better but also give them the opportunity to do something and learn should they not be interested in what we were saying.
We bought toothpaste, tortillas, pancakes and glass cutting boards. Teams of kids used them to simulate being a 3D printer with the cutting board being the build platform and the toothpaste the print head & build material for example.  This was fun but we were unable to let the kids show us more things in the interests of time. We loved watching them 45 minutes sounds like a long time but we easily could have used twice that amount. Small things such as confusion on how to save a design or log on to the PCs also ate up time. The devil really is in the details with these things.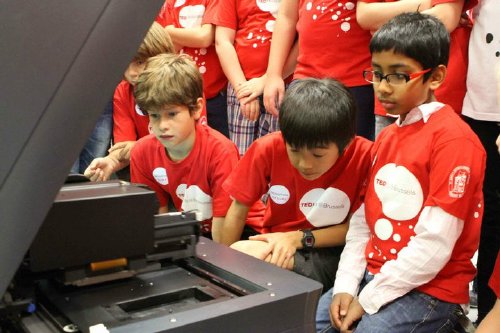 A great tool on the day was of course a 3D printer. We had a beautiful Objet 24 printer. We gave two workshops and each time and once the kids were told the Objet was there they mobbed it. They looked fascinated at the UV light and the deposition of material. Having the printer really let kids understand the technology. Interestingly while the kids were very excited about the uses of 3D printing and what they could do with it they were less amazed than adults are. The "suspension of disbelief" was not an element. Also, I think that because they are more used to learning new things and their minds are less cluttered by old concepts kids take better to the technology than adults. Adults are a slower.
Franky then talked about the 3D modeling tool 3D tin to the kids. This lets anyone make a 3D model by building it up out of blocks. He explained some things in 3Dtin that the kids would probably not discover by themselves. He also walked them through the practical things in the software such as rotating and extruding. Here Franky would also have liked to give the kids more of a demo and show them how to build more complex things. We did the workshop twice and both times we would have liked to give the kids much more time to play with 3Dtin.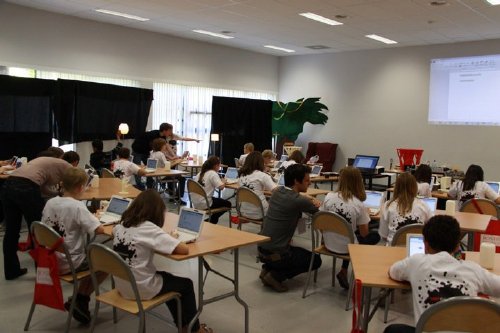 The kids made lots and lots of stuff from dream houses to jewels and butterflies. They found it easy to work with 3Dtin and were a able to create 3D printable models. Because we had done the test previously we had 3D printed some things already. The picture at the top of the post shows Retik with his 3D printed glasses. I think its the single best explanation of this technology and its potential. Retik is ten and was able to design and make his own glasses using 3D printing.  We"ve believed for years now that 3D printing will change the world. TEDxKids Brussels was a lot of fun for us and we met a some great people. But, by far the most valuable thing for us was proof that indeed it will. We"d like to thank the kids so much for showing us we"re on the right track and that with easy to use tools such as the Objet24 and 3Dtin 3D printing will let anyone make anything.
Thank you so much to Jayesh of 3Dtin on all his work on the 3Ditin export and the feautures he built for TedxKids. We are very greatful to Objet in sending us an Objet 24. Also, we"d like to thank Michael of Objet for driving for ten hours to take us through all the ins and outs of the Objet24. We"d like to thank the facilitators and helpers that set up the room with us and took care of the kids during the day. Thank you so much to the organising staff!
Top 5 tips for a TEDxKids workshop
The kids are smarter, learn quicker and are more serious than you think.
The kids get distracted super easily.
Change it up. We had the kids move around the room, watch a movie, watch the 3D printer and touch a lot of 3D printed things.
Don"t worry about "keeping kids in line." If you are interesting enough you won"t need to.
Make sure you have no blocking issues such as faulty equipment or unclear instructions, this slows you down.