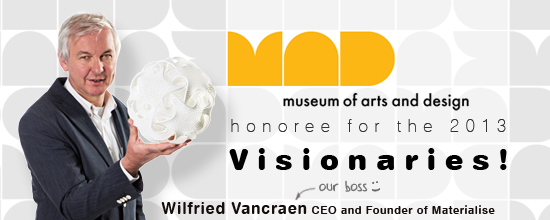 i.materialise and Materialise CEO Fried Vancraen to receive 'Visionaries' Award
Not only is our parent company Materialise conquering MAD with the 'Out of Hand' exhibition. In recognition of Materialise's commitment to technological innovation and 3D printing, i.materialise and Materialise CEO Fried Vancraen  will be among those honored with a special "Visionaries!" award by the Museum of Art & Design (MAD).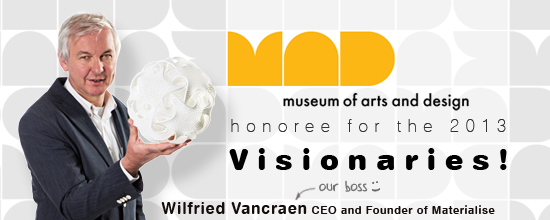 What a great honour to be amongst the honorees of this year's Visionary Awards. Other honorees are the internationally-renowned artist Frank Stella, Rick Kinsel, Executive Director, the Vilcek Foundation, and jewelry designer and business leaders David and Sybil Yurman. As leaders in their fields, these individuals exemplify the Museum's mission to explore contemporary creativity across all media. We hope you will be able to join us November 20, 2013 as we not only celebrate their many innovations and achievements but also MAD's 5th anniversary at 2 Columbus Circle.
Materialise and CEO Wilfried Vancraen, will be honored for the company's leadership and extraordinary commitment to technological innovation in additive manufacturing (3D printing). Materialise is honored on the occasion of its inclusion in MAD's Out of Hand: Materializing the Postdigital.
We are (together with the other Materialise departments) so proud of this and want to thank every artist, designer, maker, hobbyist,….that used our services!