i.materialise 3D printed jewelry workshop by Karen Wuytens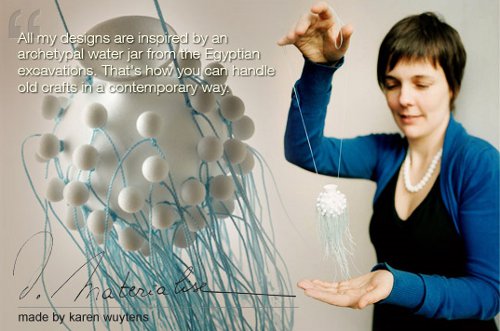 In September we will be organizing a workshop in contemporary 3D printed jewelry design at the .MGX flagship store in the Sablon area in Brussels. The 3 day workshop by Karen Wuytens will take place on the 8th, 9th and 16th of September. Participation is free of charge, but limited to ten participants.
Karen is a jewelry designer and PhD-researcher at MAD-Hasselt, who uses 3D printing in her designs. For this she works closely with us here at i.materialise. Karen will share her experience in 3D printed jewelry and take you through the creation of a 3D printed jewelry piece. Karen would like to, "let designers taste the spatial possibilities of this innovative new technology as well as the acompanying production and design process." Noted hat designer Elvis Pompilio will also attend and help give you some insight into his work. Fabien Franzen will also be there in order to give you guidance of the 3D modeling aspects of the workshop. The attending designers will also be given the opportunity to make their own pieces and visit the world's largest 3D printing facility, Materialise in Leuven. We think this is an excellent opportunity for you to understand, learn and begin exploring contemporary 3D printed jewelry design and get a head start in the field.
If you are interested in attending please send an email outlining why you would like to attend to contact at i.materialise.com with "Jewelry Workshop" in the subject line.