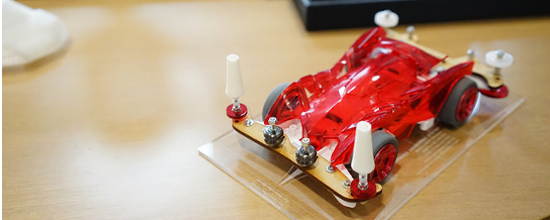 Honda Team Awarded a 3D Printed Trophy as Champions of the Inaugural FabCafe Mini 4WD Cup
by Yui Takahara | September 12, 2014
Organized by FabCafe Shibuya, a Mini 4WD Cup was held on Sunday, August 31 in Tokyo. More than 60 mini 4WD fans, including children and professional car designers, gathered at Kashiwanoha KOIL to race their miniature cars customized by 3D Printers and laser cutters. After three tournaments, the trophy – 3D Printed through i.materialise – was awarded to the grand champion, Honda Design. Here are some highlights of the event from the i.materialise Japan team! 
Mini 4WD to Drive Japanese Maker Community
Mini 4WD (4-wheel-drive) or Mini Yonku has been a popular hobby, especially among Japanese children, since the 1980s. These battery-powered plastic miniature race cars are a lot like slot cars, yet they run on the track without a remote control. Mini 4WD racers typically customize their cars by modifying the motors, bumpers, tires and wheels to make them run faster.
Mini 4WD is a part of almost every childhood in Japan: but some of them didn't give up the passion even when they grew up. As digital fabrication tools such as 3D Printing and CAD software became more accessible, grown-ups started applying these technologies to make their own miniature race cars. The organizer of the event at FabCafe Shibuya saw an opportunity in this trend: customization of mini 4WD cars is a great way for people to start familiarizing themselves with the concept of digital fabrication.
Inspired by the emerging Maker movement around the world, FabCafe opened its doors in 2002 in Shibuya, the very center of Tokyo. Here they provide a community space for creative people to get connected and materialize their ideas using 3D Printers and laser cutters installed in the café. FabCafe's COO Toshimasa Kawai says, "Mini 4WD hobbyists and designers can create a synergy together to drive the Japanese Makers community."
Mini 4WD for Everyone
Participants in the mini 4WD race were categorized into three classes depending on the level of customization. While beginners joined a workshop to customize their car bodies before the race, some others with more design experience had already 3D Printed their cars using 3D Printers and laser cutters.
There were even professional designers who inspired us with their modern, original and 3D Printed mini 4WD designs. Here are two pieces created by professional industrial designers Mitsuki Nishikawa and Jungsam Park.
Mitsuki's KIRIE depicts the beauty of Japanese paper art (kirie literally means paper cut-out in Japanese).
The other mini 4WD, LAYERSTA, was designed by Jungsam and was inspired by contemporary architecture. The way these 3D Printed cars rotated on a fancy glass stand even looked like a mini-motor show!
The Honda Design team took a slightly different approach. These designers customized their mini 4WD bodies by cutting parts out of a wooden sheet with a laser cutter to make these thin and light cars.
Applause for Japanese Engineers
One thing to keep in mind when racing a mini 4WD car is that you get disqualified if your car goes too fast, fails to negotiate the curve or jumps out of the track. These 3D Printed bumpers placed in the middle of the course made the race dramatic by kicking the fastest cars out of the track. One contestant's shark-shaped mini 4WD car was invented specifically to address this issue. It had a built-in meter to count the number of motor rotations and limit the car's speed when turning a curve. Hats off to the Japanese engineering spirit!
And the 3D Printed trophy goes to… the Honda team!
The tournament lasted until late in the evening, yet the air of excitement kept building as the races came to an end. The audience reacted with a loud cheer when one of the Honda Team's laser-cut mini 4WDs crossed the finish line to be the final champion. It was great to see a big smile on their faces to receive the prize: a custom-made polyamide trophy 3D Printed through i.materialise!
The next round of the FabCafe Mini 4WD Cup is already scheduled to be held in March 2015. If you happen to be a mini 4WD lover living in Japan, you can test-run your car at FabCafe Shibuya, use their 3D Printers or even ask them to check your 3D models. We're looking forward to seeing even more original 4WD cars next time!