Flexible 3D Printed Fashion Hits the Catwalk with Iris van Herpen, Julia Koerner and Materialise
by Franky | February 15, 2013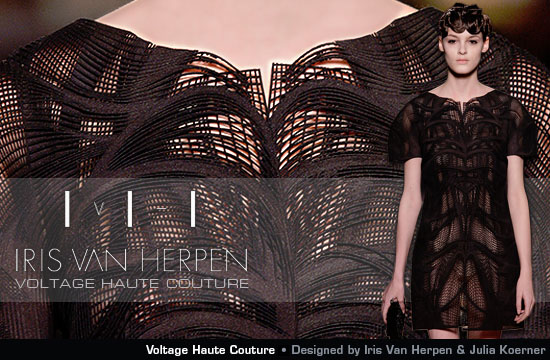 Recently, on the catwalks of the Spring Fashion Week 2013 in Paris, 3D printing was again a major highlight in Iris van Herpen's Haute Couture show, 'VOLTAGE'. Collaborating with 2 pioneers of the 3D printing industry, the Dutch designer presented never-before-seen 3D printed Haute Couture. Van Herpen is without any doubt the leading lady of Haute Couture and 3D printed fashion.
COLLABORATION
Dutch designer Iris van Herpen's eleven-piece collection featured two 3D printed ensembles, including an elaborate skirt and cape created in collaboration with artist, architect, designer and professor Neri Oxman from MIT's Media Lab, and 3D printed by Stratasys. An intricate dress was also designed in collaboration with Austrian architect Julia Koerner, currently lecturer at UCLA Los Angeles, and 3D printed by Materialise, marking the second piece created together with Koerner and the ninth with Materialise .
A MATTER OF TIME
"I feel it's important that fashion can be about much more than consumerism, but also about new beginnings and self-expression, so my work very much comes from abstract ideas and using new techniques, not the re-invention of old ideas. I find the process of 3D printing fascinating because I believe it will only be a matter of time before we see the clothing we wear today produced with this technology, and it's because it's such a different way of manufacturing, adding layer-by-layer, it will be a great source of inspiration for new ideas." – Iris van Herpen

MAKING OF


THE DRESS
Van Herpen, Koerner and Materialise have continued testing the limits of 3D printing with this 3D printed dress, proving once again that normal rules don't apply when fashion and high technology combine. In last season's 'Hybrid Holism' collection, they first introduced the use of Materialise's Mammoth Stereolithography machines for a stunning semi-transparent dress that one spectator compared to liquid honey. For this latest collection, ready for an even greater challenge, an experimental new material (TPU) was put to use in the creation of a flexible, soft dress of stunning complexity. The piece's intricate lace-like texture was created with precision by laser sintering and would have been impossible to realize any other way.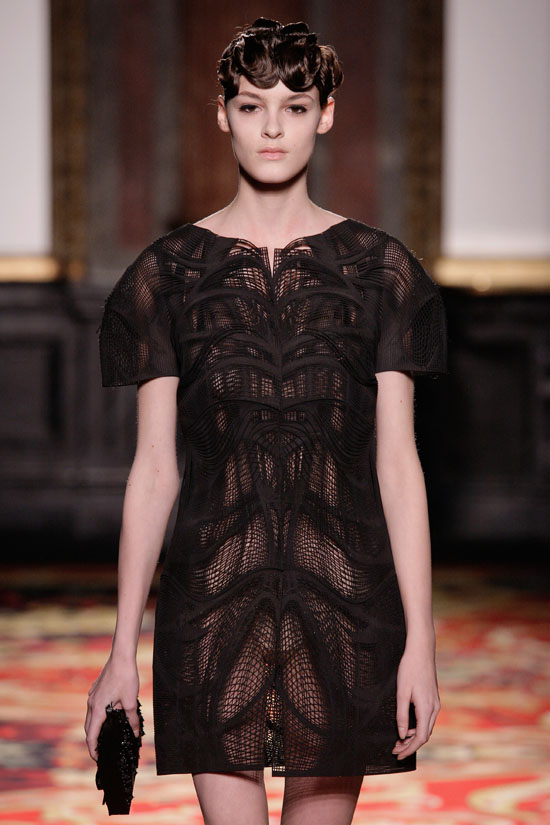 Voltage show – Iris van Herpen in collaboration with Julia Koerner and Materialise. © Michel Zoeter