Featured Friday- showing your 3D printed designs
by Tatiana | August 10, 2012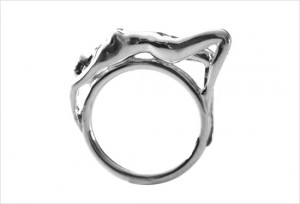 Another week full of nice looking, inventive designs has passed. We selected some eyecatching 3D printed items that caught our attention. First of all, we want to show you this elegant ring Woman, made by Els Cuvelier, a designer from the Netherlands. Can you imagine this ring around your finger?

Another nice design is this gold plated brass pendant made by Dizingof. It's called Klein Bottle and it's a mathematics shape. You can wear it on a necklace or just put it on your desk as an eyecatcher.
It's always fun to be surprised by a design, such as this one, made by Carlos Gomez, in white polyamide. This shopping bag helper makes your shopping a little easier (and less painful) especially when you're walking around with too many plastic bags in one hand! By its finger friendly grip it gives you just the support you need, instead of having paintful fingers. Who knows we're all walking around with this in a couple of months.
Hope to see more nice designs in the future. Have a nice weekend everyone!

By the way: don't forget to post your project on our forum in unbox it. You can win two vouchers of 250 euro with our Facebook/Forum Design Challenge!