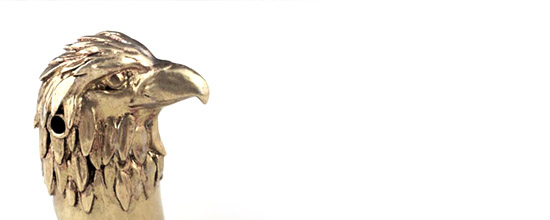 Featured Friday: Showing your 3D printed designs
by Franky | October 4, 2013
Happy Friday everyone! It's time again to feature some of our latest designs.
Designed by Dirk Heinemann and printed in stainless steel (old silver) is the Gourami 3D Pipe Tamper "Bool", a clean and elegant design, with uncompromising functionality.
Yes, I'm of fan of Pookas, the jewelry designs of German designer Michael Mueller. The designs, the quirkiness, the funny descriptions, and the nice imagery, they've got it all!
Michael Mueller: «An eagle sees everything! Now with this whistle, you can notify people by whistling that you noticed what they are doing. "Don't throw your garbage on the ground!", "You need a haircut!" … Your environment will certainly react positive about your feedback! Even if you not like to show people their mistakes, this is a nice pendant which can be used as a whistle… just in case you need it!»
Finally, we have something popping up regularly on Fridays: the model railroad scenery from 3ddecodetails! Take a look at the latest Mobile home trailer #10001 in 1:160 (N-scale). The first image is the mobile home, printed in prime gray and unpainted. The second is what I'd call the definition of paying attention to detail!
Don't forget to put your own creations in our shop to sell them or show them to the world!